On Call International's Monthly Risk Spotlight highlights events of heightened importance in assessing risk to travel and operations abroad.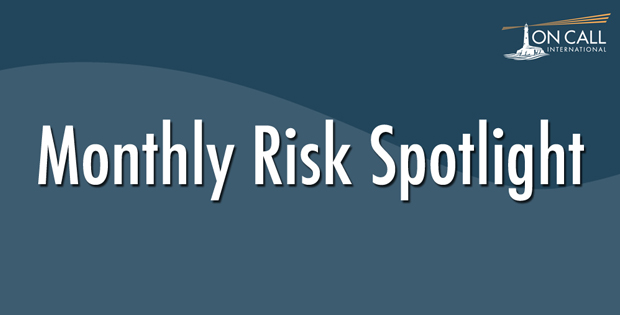 Americas
Migration Patterns in Latin America
Several significant migration patterns are occurring in Latin America due to a variety of factors including political unrest, economic concerns, and simply a lack of opportunity. Primarily, the view from the United States is that the flow of migrants from Latin America into the U.S. comes from Mexico into the United States. However, according to the Pew Research Center, from 2007-2015, immigration from Mexico into the U.S. decreased by 6%, while immigration from the Northern Triangle area (Honduras, Guatemala, and El Salvador) rose by 25%. While lack of economic opportunity is also a base-level factor for immigration and migration from Latin America, the violence from the gang crisis in these countries is a major driver.Currently, major migration developments in Venezuela, Nicaragua, and Brazil are changing the landscape of Latin America. According to the United Nations Refugee Agency, over 23,000 Nicaraguans have sought asylum status in neighboring Costa Rica since the violent unrest began in mid-April 2018. In the case of Brazil, there is significant immigration to the United States and Portugal. The source of the Brazilian issue is lack of overall security, a stagnant political crisis that could worsen with upcoming October 2018 presidential elections, and a dismal economic outlook. The key problem in this case is that immigration is not from the heavily unemployed or from those of lower socio-economic means, but from the highly educated and successful upper-middle class. There is potential that this exodus of highly educated people could cause a "brain-drain" on Brazil's economy. According to the Miami Herald, Colombia census data indicates approximately one million Venezuelans have migrated into Colombia over the last two years. That not only has immediate and long-term ramifications for Venezuela, but also for Colombia, which is not properly prepared to manage and support such an influx of people.
Middle East and Africa
Kidnappings Continue Across North Africa & the Sahel
The risk of kidnappings in North Africa and the Sahel was thrust back into the spotlight in July, when three Filipino engineers and a South Korean individual were abducted from a water project site in western Libya. Libya has become a microcosm of the kidnapping threat present throughout the region, as militia and jihadist groups (e.g. the Islamic State) have taken advantage of the power gap in the country to target foreign workers and diplomatic missions. Kidnap and ransom (K&R) is known to be a huge source of revenue for criminal entities and extremist groups with a presence in the region. It's estimated that Al-Qaeda receives millions of dollars a year from kidnapping operations in Northern Africa, which they then use to fund other malicious activity throughout the world.
The threat of kidnapping across the region is real and shows no sign of abating in the near future. This is particularly concerning as the region experiences increased foreign investment and development. Organizations operating in the region should ensure they are well-educated on the threat and put proper protocols in place to mitigate the risk. It's recommended that anyone traveling or working in the area have formal K&R training on what to do in kidnapping situations and also have risk management programs that include active K&R insurance policies. It's also vital that there are official company policies on how program managers and administrators are expected to respond if confronted with a K&R event.
Asia-Pacific
Continued Vigilance on IS Activities in Asia-South Required
Over a year has passed since the commencement of an atrocious five-month-long siege carried out by IS-linked rebels in Marawi, Philippines. The attacks and ensuing conflict resulted in hundreds of fatalities, the displacement of thousands of locals, and irreparable infrastructural damages in the affected area. Yet, despite the local government's efforts to stymie the activities of the IS-affiliated groups and implement long-demanded policies that grant further autonomy to groups in distressed areas, violence and lawless activities associated with these IS-associated groups persists.
In May 2018, a series of suicide bombings and terrorist attacks across Surabaya (Indonesia), perpetrated by family groups with children as young as nine years old, resulted in at least 28 fatalities and several others injured; a pro-IS group claimed responsibility for the attacks. More recently, another IS-linked group in the Philippines carried out an attack on a security checkpoint in Basilan province, killing at least 11 people. Reports also suggest that extremist-Islamic groups are re-engaging in the drug production and supply trades across the southeast region in a bid to raise funds for recruiting additional personnel and carrying out further attacks.
While concern remains high in countries such as Malaysia, Philippines and Indonesia, others in the region are also wary of IS activities, including Bangladesh and India. In India, there have been several reports where authorities have suggested that attack missions by IS-inspired and affiliated groups in-country continue to be regularly thwarted. However, more worrisome for Indian authorities are reports suggesting IS groups in India could have the capacity to carry out chemical or biological attacks. Continued vigilance and increased efforts against IS-related activities across South and Southeast Asia will remain one of the utmost requisite law and order tasks for respective State authorities.
Europe/Central Asia
Record Heatwave Presents New Challenges for European Authorities
In recent months, Europe has experienced a record heat wave, with experts estimating that summer 2018 will be Europe's hottest summer on record. The cause can be attributed to hot air blowing in from the African continent. Cities such as Paris, Frankfurt. Amsterdam, and Stockholm reached their hottest temperatures of the year during the month of July. Furthermore, during the final week of July, Madrid hit 104 degrees and Lisbon hit 106 degrees, which were the hottest temperatures on record for the cities. The sudden influx of heat has left European officials perplexed and has led to an increase in natural disasters that were neither expected nor planned for.
For example, Greece has experienced devastating wildfires, killing seventy-four individuals and displacing thousands. Sweden has also experienced unexpected and severe wildfires, which has led Swedish officials to reach out to the Swedish military for assistance. The increased heat has also caused crop failures and food shortages, leading European farmers to ask for governmental assistance. Travelers heading to Europe this summer should be well-prepared for hot weather by implementing proper sun protection measures, staying out of direct heat when possible, and drinking plenty of fluids. In addition, local weather channels should be monitored for reports of forest fires. European authorities are overwhelmed with the consequences of the heat wave and may not have full or appropriate mitigation measures in place.
Need help assessing the global risks affecting your travelers? Contact us today.