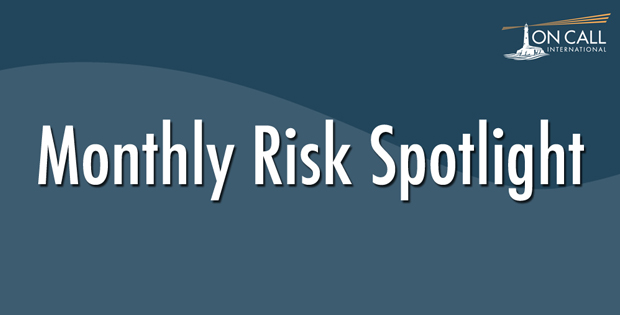 AMERICAS
US Introduces New Entry Requirements
On Monday, 8 November US President Joe Biden issued a new proclamation regarding international travel which simultaneously lifted and implemented restrictions with significant implications for those hoping to travel to the US. For close to two years since early 2020 the US restricted nearly all travelers who at any point in the past 14 days had traveled through the European Schengen Region, the UK, China, India, South Africa, Iran, or Brazil. On 8 November those restrictions were lifted in what the Biden administration describes as a shift away from country specific restrictions.
Instead, a new strategy will go into effect focused on vaccination status. Under this new strategy travelers (US citizens/immigrants exempted) will only be permitted entry into the US if they are fully vaccinated against COVID-19. According to the new requirements, permission to enter will be permitted for all those fully vaccinated regardless of purpose or travel history. Fully vaccinated is being defined as having received, at least two weeks prior to entry, the full dosage of a COVID-19 vaccine recognized by either US regulators or the World Health Organization (WHO). A list of COVID-19 vaccines recognized by the CDC can be found here, while a list of COVID-19 vaccines recognized by the WHO can be found here. The inclusion of WHO-recognized vaccines means, for instance, that the AstraZeneca vaccine will be accepted, but the Russian-developed Sputnik V will not be recognized at this time.
Accepted forms of proof of vaccination will include both paper and digital. According to government officials, the most important thing is that the form comes from "an official source." Proof of vaccination will be reviewed by airlines prior to departure for the US.
There are a few limited exceptions that will permit unvaccinated non-US citizen/immigrant travelers to enter the US. First, those who are under the age of 18 will not be required to be vaccinated to enter the US. Second, limited medical exemptions will be made, mainly for those who have a history of anaphylaxis in response to COVID-19 vaccines. And finally, those coming from countries where less than 10% of the population is vaccinated due to lack of supplies will not be required to be vaccinated to enter the US, though they will only be permitted if they have a "compelling reason," of which tourism is not included. Close to 50 countries currently fall in that category including Egypt, Ethiopia, Haiti, Iraq, and Nigeria.
Besides the new vaccine requirements, adjustments have also been made to US entry requirements regarding testing and contact tracing information.
A negative viral test result remains mandatory for all incoming travelers to the US, including US citizens. But, beginning 8 November the window within which the negative result is required will change. For those who can prove being fully vaccinated, a negative result within three days of entry remains the requirement. However, as of 8 November travelers unable to prove full vaccination will be required to show a negative test result within one day to be allowed entry. This will be the case for all travelers including US citizens.
Lastly, an adjustment will be made requiring all incoming travelers to provide contact tracing information to airlines at boarding including their full name; address in the US; primary and secondary phone numbers; email; date of birth; and flight details including departure/arrival cities and times and seat number.
With a new emphasis on traveler vaccination status rather than travel history, a significant influx of international travelers to the US is forecast through the end of 2021. The combination of this influx with the inevitable slowdowns related to governments, airlines, and passengers adjusting to new requirements may result in increased disruptions and delays for travelers over this period.
MIDDLE EAST AND NORTH AFRICA
Opposing Saudi Arabia and Crown Prince Mohammed bin Salman
The American newsmagazine television show "60 minutes" recently aired an interview with a former Saudi intelligence officer. Saad Aljabri was the second highest ranking intelligence officer in Saudi Arabia until his boss, Crown Prince Muhammad bin Nayef, was relieved of all positions by the King in 2017. Prince Mohammad bin Salman (MBS) was his replacement breaking the rules of succession in the Kingdom. Shortly after MBS was handed power, Saad's two children were banned from leaving the Kingdom. He soon fled to Canada with the rest of his family fearing retribution. His son Omar and daughter Sarah are now in custody in Saudi prisons convicted of money laundering and attempting to escaped. They haven't been heard from since March 2020.  Human Rights Watch calls the trial unfair and said that it was an apparent effort to coerce Saad to return to the Kingdom. He claims that around the same time journalist Jamal Khashoggi was summoned to the Saudi consulate in Turkey, he received a warning from a friend in intelligence. The warning claimed another hit team was heading to Canada for Saad. He was warned to avoid any Saudi mission or consulate in Canada.
Saad spent the duration of the televised interview warning President Biden and other nations of the dangers that MBS poses to the world. His daughter, Hissah al-Muzaini has also made a public appeal to Biden. Hissah's husband is also in a Saudi prison after apparently being kidnapped in a third country. She now claims that the Saudi government attempted to lure her to the same consulate where Khashoggi was murdered in Turkey. The Al-Muzaini family made this allegation in a civil suit filed in early 2021. According to the suit, MBS "attempted to lure Dr. Saad Aljabri's daughter, Hissah Al-Muzaini, to the Saudi consulate in Istanbul". Crown Prince MBS continues to deny any involvement with the Jamal Khashoggi murder and states that Saad is a "discredited former government official with a history of fabricating and creating distractions to hide the financial crimes he committed." Former acting CIA director went on record saying he considers Saad Aljabri to be an honorable man who is loyal to his country. He also went on to say that Saad has helped US intelligence thwart many attempted terror attacks.
As the interview continues, Saad discusses the infamous "Tiger Squad". Back in 2018, a Saudi source revealed information about a death squad that operates under MBS. The Tiger Squad, or Firqat el-Nemr, is known to US intelligence services. It is comprised of 50 of the best-skilled military and intelligence operatives in Saudi Arabia and its mission is to covertly assassinate Saudi dissidents all over the world in a way that goes unnoticed.  If anything, Saad and Hissah's allegations confirm those who speak out against MBS should tread lightly.
ASIA-PACIFIC
Australia Takes First Steps Towards Reopening International Borders
After maintaining some of the most stringent international border restrictions due to the COVID-19 pandemic, Australia has begun to gradually reopen its border as of 1 November. This partial reopening comes over eighteen months after Australia closed its borders to almost all international travelers while placing limits and restrictions on Australian nationals and permanent residents who could enter the country from abroad. Currently, only states and territories where at least 80% of the adult population has been fully vaccinated are reopening their borders, initially including New South Wales, Victoria, and the Australian Capital Territory. As Australia's vaccination rate continues to rise, however, additional locations throughout the country are expected to reduce border restrictions and allow for limited permissible international travel, initially just for Australian nationals, legal residents, and their immediate family members. For those located in Australia and for those seeking to enter the country from abroad, changing border statuses provide fresh travel opportunities and a sense of relief after months of international isolation.
During the early stages of the global COVID-19 pandemic, Australia adopted a 'COVID Zero' policy whereby even the slightest increase in domestically transmitted COVID-19 cases could potentially prompt a complete lockdown of the affected area. This policy was most notably implemented in Australia's most populous city, Sydney, as well as in the city of Melbourne which endured a total of 262 combined days under lockdown on six separate occasions. The implementation of these lockdowns had a positive effect on keeping the country's COVID-19 case count low relative to similarly populated countries but it has also had a notably negative impact on the country's economy and has also motivated the growth of an anti-lockdown protest movement which has been actively organizing across some areas in spite of restrictions against large public gatherings. In order to eliminate the need to impose lockdowns, the Australian government announced that the 'COVID Zero' policy would transition to a 'Living with COVID' strategy whereby rising vaccinations rates would lead to the gradual elimination of lockdowns. This strategy was also applied to Australia's international borders as states and territories with adult vaccination rates exceeding 80% will begin reducing border restrictions.
Even as Australia has partially reopened its borders, it is still looking towards the future and how additional restrictions on international travel can be reduced and eventually eliminated. The government is currently making plans to permit quarantine free entry for international students and skilled foreign workers. Moreover, plans are in place to allow travelers from Singapore to enter Australia without having to quarantine. While the Australian government has not announced specific plans for the full reopening of its international borders, plans for implementing such a policy are expected to come into effect in the first half of 2022. Considering that Australia's borders have remained closed to most international travel for eighteen months, these developments over the past few weeks are a positive sign of things to come.
SUB-SAHARAN AFRICA
General al-Burhan Leads Military Coup
Travelers in Sudan were temporarily stranded and unable to leave the country when Khartoum International Airport was shut down with all flights suspended until further notice following a sudden military coup. Military chief General Abdel Fattah al-Burhan lead the military coup on 25 October that resulted in the dissolution of the joint military-civilian transitional government and declared a state of emergency resulting in the suspension of all activity at Khartoum International Airport after Prime Minister Abdalla Hamdok was placed under house arrest and other members of the civilian government and joint Sovereign Council were taken into custody.
Protests against the military coup began immediately in Khartoum in the aftermath. Civilian protesters set up roadblocks and clashed with troops resulting in several protesters being killed and multiple arrests. International travelers seeking to leave were advised to shelter in place if possible and await flights to have clearance to arrive and depart once the suspension of airport operations was lifted on 27 October. While events of major political unrest and protest violence would normally result in international travelers seeking evacuation from the country or immediate area, the suspension of international flights makes such options limited. Travelers staying in secure accommodations would be advised in such circumstances to shelter in place until conditions have improved to travel and/or depart the country safely; as well as to avoid all protests or large public gatherings if they must seek supplies or have an unexpected emergency.
The transitional government with its power-sharing arrangement was formed in the aftermath of the military deposing Omar al-Bashir in 2019 in response to a widespread civilian protest movement against his autocratic rule. General al-Burhan had been serving as the military leader of the Sovereign Council prior to its dissolution. The purpose of the power-sharing arrangement had been to transition to holding elections in 2023 to complete the establishment of a fully civilian government. In the weeks leading up to the 25 October military coup, protests both against and in support of the civilian government had been taking place in Khartoum with both sides growing increasingly upset at slow moving progress on the transition and a lack of action.
To date, the state of emergency remains in place with mediation efforts ongoing to restore the transitional government process. General al-Burhan maintains that he remains committed to holding elections in July 2023 and is in the process of selecting a replacement prime minister. Communication has been inconsistent as many arrested during the coup have been unable to be contacted by lawyers and charges against them have not been clearly established. While the current plan appears to be creating dialogue towards a new transitional government, the process remains constantly shifting in uncertainty for the time being.
EUROPE
There Is No Dark Internet
In late October, Europol and FBI agents arrested 150 people and confiscated over $31 million worth of cryptocurrency, drugs, and guns in an international dark web sting operation known as Operation Dark HunTor. The arrests were the result of a 10-month investigation between federal law enforcement officials in the U.S. and Europe. Authorities claim the suspects are responsible for illegal drug and weapons sales in the U.S., the United Kingdom, Australia, Bulgaria, France, Germany, Italy, the Netherlands, and Switzerland.
The dark web is a part of the internet hosted within an encrypted network that cannot be indexed by search engines and must be accessed using specialized anonymity-providing tools, such as the Tor Browser. Additionally, many dark web marketplaces are accessible by invitation only, making it difficult for law enforcement to monitor websites that feature illegal products or services. Operation Dark HunTor was a direct result of an earlier sting operation based in Germany that led to the takedown of DarkMarket, which was the dark web's largest marketplace. The arrest of DarkMarket's site administrator in January led to evidence that was subsequently provided to dozens of law enforcement teams across the world for follow-up investigations, such as Operation Dark HunTor.
For the last 10 months, Europol and the FBI used the information from DarkMarket to identify suspects who had sold drugs, weapons, and other criminal services across Europe, the United States and Australia. 65 of the arrests were in the United States, with the other 85 spread across the United Kingdom, Germany, Italy, France, Switzerland, Bulgaria, and the Netherlands.  Operation Dark HunTor specifically targeted suspects who were running home laboratories to manufacture counterfeit prescription drugs that contained fentanyl, methamphetamine, and other lethal compounds. Evidence seized during the raids included amphetamines, cocaine, opioids, MDMA, and nearly 50 firearms. Approximately 90% of the confiscated drugs contained fentanyl or other dangerous counterfeit narcotics. In conjunction with Operation Dark HunTor, Italian police shut down two similar dark web marketplaces known as "DeepSea" and "Berlusconi," while French authorities shut down a dark web marketplace called "Le Monde Parallele," or "Parallel World."
Since at least 2015 illegal narcotics have been readily available on dark web marketplaces. The nature of security and anonymity initially provided criminals a safe environment to conduct business. While law enforcement initially struggled to keep up, they have recently proven the ability to adapt in order to track down criminals in any environment. While authorities are not expected to stop all criminal activity on the dark web, US Deputy Attorney General Monaco stated that Operation Dark HunTor sends a message: "There is no dark internet."
For over 25 years, On Call International has provided fully-customized travel risk management and global assistance services protecting millions of travelers, their families, and their organizations. Contact us today and watch our video to learn more. You can also stay in touch with On Call's in-house risk management, travel health and security experts by signing up for our quarterly Travel Risk Management (TRM) newsletter.
The information provided to you within this report has been compiled from a multitude of available sources and is based on current news and analysis at the time of writing. The security team at On Call International, LLC has provided this analysis, supporting advice, and recommendations in good faith to assist you in mitigating risks that could arise. However, no implied or express warranty against risk, changes in circumstance, or other fluid and unforeseen events can be provided. By reading this report, you will agree that any reliance you place on this information is therefore strictly at your own risk and that you will not hold On Call International, LLC or the authors responsible for any inaccuracies, errors or oversights here-in. No part of this publication may be reproduced, stored in a retrieval system, or transmitted, in any form or by any means, electronic, mechanical, photocopying, or otherwise without the prior permission of On Call International, LLC.