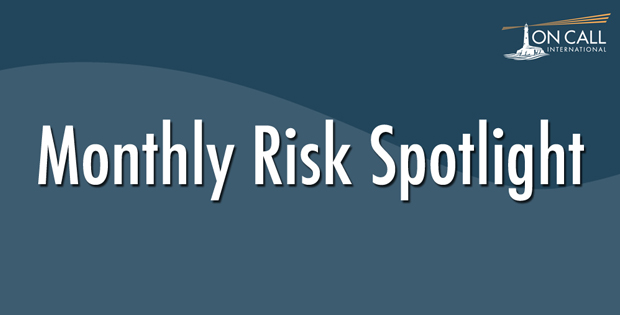 AMERICAS
Brazen Brazilian Bank Robberies
Two small cities in different regions of Brazil were hit by brazen bank robberies within 24 hours of each other on 1-2 December. In the first incident, dozens of gunmen arrived in the city of Criciúma, in southern Brazil, in a convoy of vehicles and robbed a branch of Banco do Brasil. Scores of heavily armed gunmen arrived at the bank after midnight, blocked off roads, took hostages, fired hundreds of rounds, and used explosives in a raid that lasted over an hour. A fire was set in a tunnel in a major thoroughfare to block Brazilian security forces from reinforcing local police, whose station also came under attack. At least one security guard and one military policeman were wounded in the gun battle before the gunmen used hostages as human shields and left the city in an orderly convoy.
The following incident in the city of Cametá, in northern Para State was nearly identical, with another convoy of dozens of gunmen arriving after midnight and staying for nearly 90 minutes as they robbed another branch of the Banco de Brasil. The tactics used by the robbers were the same, with videos uploaded to social media capturing a chaotic scene of hundreds of rounds of automatic gunfire and multiple explosions. Sadly, one hostage appears to have been executed by the robbers before they escaped.
While authorities attempt to identify, locate, and apprehend the culprits of these latest incidents, they do not believe that the incidents are linked to the same criminal organizations. These Hollywood-like robberies are part of a broader trend that has emerged in Brazil in the last five years: "New Cangaço." Cangaço refers to a period of widespread banditry witnessed in Brazil in the 20s and 30s. The trend refers to raids in which dozens of gunmen target single banks or businesses that handle valuables, usually in a small or medium-sized city. The year 2019 saw 21 robberies of this nature in the state of Sao Paolo alone, with the first half of 2020 logging 14. Authorities believe that some of Brazil's notorious, large-scale criminal organizations like Commando Vermelho (Red Command) and Primeiro Comando da Capital (First Command of the Capital) are responsible. Paraguay was even struck by one in 2017, sparking an enormous gun battle and resulting in the largest robbery in the country's history. The trend is a reminder that in Brazil, the government is far from maintaining a monopoly of power and instead contends with enormous and aggressive criminal organizations. Until larger issues, like tackling corruption and strengthening rule of law are achieved, brazen criminal theatrics like these are likely to persist.
MIDDLE EAST AND NORTH AFRICA
Nuclear Scientist Assassinated in Iran
On November 27th Mohsen Fakhrizadeh, a top scientist believed to lead the Iranian government's efforts to create a nuclear weapon, was assassinated. Though there have been conflicting reports regarding the assassination tactic, Fakhrizadeh was reportedly in a vehicle when another nearby vehicle exploded, and multiple shots followed. Iran has blamed Israel for the killing, and a senior U.S. government official and many observers around the world have indicated suspicion of Israeli involvement. As of the writing of this piece, Israel has abstained from making any statement.
Should Israel be responsible, this would be the latest in a long string of targeted killings and strikes by Israeli forces on the Iranian nuclear program. An international diplomatic deal, the Joint Comprehensive Plan of Action (JCPOA), was signed in 2015 by which Iran significantly limited its nuclear activities in return for the lifting of economic sanctions by the international community. In 2018 the U.S. backed out of this deal and reestablished sanctions. One year later, Iran restarted parts of its previously halted nuclear program, resuming stockpiling and increasing plutonium enrichment, despite escalating U.S. sanctions.
Iranian officials have vowed retaliation for the killing and passed a law ordering the immediate ramp up of uranium enrichment levels, bringing Iran closer to the level needed to create a nuclear weapon. Despite this, Iranian leaders have indicated willingness to return to the terms of the JCPOA, should the U.S. government remove its maximum pressure sanctions. However, the current U.S. administration under President Trump could view this escalation in nuclear activity as a direct provocation. It is unclear what the US response will be, but President Trump reportedly explored military options against Iran's main nuclear site in Natanz recently, after international observers noted a significant increase in uranium stockpiles. With Iran now stating intentions to ramp up nuclear activity and edge closer to a nuclear weapon in response to the Fakhrizadeh killing, President Trump's inquiries could likely resurface despite the vast and long-lasting regional consequences any kind of U.S. strike on Iranian territory would have.
ASIA-PACIFIC
Declining Sino-Australian Relations
On Monday 30 November, Chinese politician and Deputy Director of the Chinese Ministry of Foreign Affairs Zhao Lijian tweeted a photo of an Australian soldier holding a knife to the throat of an Afghan child. The image, determined later to be fake, is a clear criticism of the Australian military after an investigation found members of the Australian military were responsible for the unlawful killing of several Afghan civilians and prisoners. Australian Prime Minister Scott Morrison condemned the posting of the doctored image and demanded an apology from Beijing. A demand which Beijing refused, claiming that by demanding an apology the Australian government was stoking Australian nationalism and attempting to deflect attention away from Australia's human rights record. While this exchange may appear trivial to some, it exemplifies the decline in Sino-Australian relations that has been ongoing for the past several years.
Recent rhetoric and posturing between China and Australia primarily derived from China's assertive regional foreign policy, human rights record, and influence in Australian elections. Relations between the countries further declined in mid-2019 when the Chinese government warned Chinese students against studying abroad in Australia, an act viewed as retaliation against Australia for supporting the student-organized pro-democracy movement in Hong Kong. Most recently, the Chinese government has also been irked by Australia's calls for an investigation into the origins of the current pandemic, an investigation that the Chinese do not believe would cast them in a positive light.
The Chinese government's attitude toward Australia encapsulates the idiom 'don't bite the hand that feeds you.' Essentially, the Chinese expectation is that Australia refrains from criticism due to their economic reliance on China. Indeed, more Chinese nationals visit Australia for tourism and academics than nationals from any other country, contributing to key Australian industries. Moreover, China is Australia's top trade partner, accounting for approximately 33% of all Australian exports. The Chinese have recognized the leverage this dependence affords them and they have recently moved to block certain Australian imports while increasing tariffs on others. Australia, aware of China's upper hand, appears interested in deepening relations with the United States (US). That said, it is unlikely that Australia's dependence on China will be shifted to the US in the near-term. Thus, it is likely that Sino-Australian relations could continue to decline.
SUB-SAHARAN AFRICA 
Ethiopia: The Tigray Crisis
An internal conflict in Ethiopia, recently ignited by long-enduring tensions, is threatening to drag the country into war. In September, the regional government of the Tigray region held elections, despite a federal government mandate to postpone all elections until 2021. National and regional elections were scheduled for August this year, however, due to the ongoing pandemic, the government opted to postpone them until further notice. With no clear date outlined and the current government reaching the end of its term, the government of Tigray viewed the postponement as an unconstitutional means by Prime Minister (PM), Abiy Ahmed to retain power.
The Ethiopian government declared the elections unlawful and sanctioned the region by withholding all financial assistance. The government of Tigray regarded the federal decision as unlawful and as a declaration of war. The legality of the elections is disputed due to unclear terms in the Ethiopian constitution, which state that if a democratic process failed in the central government, Ethiopian regions could make their own rulings. Article 39, 1, of the constitution also reads, "every Nation, Nationality and People in Ethiopia has an unconditional right to self-determination, including the right to secession." However, the constitution also requires regional governments to abide by federal government orders.
Shortly after the disputed elections, the federal government alluded to a Tigrayan attack on their Northern Command Headquarters in Mekelle, a city in the Tigray region. On 4 November, PM Ahmed stressed the attack had crossed the red line and he officially declared war on the Tigray region. A brutal offensive between the Tigray People's Liberation Front (TPLF) and the Ethiopian National Defense Force (ENDF) followed and persists as of the writing of this piece. The conflict has already forced thousands to flee to neighboring Sudan and has claimed the lives of hundreds of people. Each side accuses the other of starting the conflict and blames the other for the casualties. Factual information on the Tigray crisis is difficult to obtain, as all communication (phone and internet lines) has been cut off in the region. The lack of transparency by the Ethiopian government has international observers worry about the actual scale of the conflict.
The city of Mekelle is said to have since been seized by government troops. The Ethiopian government declared that with this capture, the conflict is over. However, the TPLF has stated it intends to continue fighting and the conflict is far from being over. There is growing fear that the Ethiopian army could become divided and Tigrayans soldiers embedded in the national army could choose to join the TPLF troops, which could create a high probability of descent to war.
EUROPE/CENTRAL ASIA
Uproar in France over New National Security Bill 
Hundreds of thousands of protestors gathered in France over the weekend of 28 November against a new draft national security bill, which would restrict the public's right to film and share footage of police officers. The public showed outrage over the bill, expecting it to provide greater protection and immunity for police officers, while making it more challenging for victims of police brutality to obtain justice. The protests follow two recent incidents in Paris. The first involved inhumane tactics used by police forces to clear a camp of Afghan refugees who had taken shelter in the Place de la République. Video recordings posted online went viral and helped shed light on the incident. The second incident concerned a black man who was brutally attacked by police officers for not wearing a face mask. Video surveillance showed them entering the victim's property beating the man for fifteen minutes with no resistance, and without obvious cause. With the video recordings clearly displaying the altercation, all charges against the victim were dropped and the police officers now face legal repercussions.
The controversial Article 24 security bill intends to make taking images and videos of police officers on duty a potential criminal offense punishable by imprisonment or up to 45,000 euros. This could allow police officers to perpetrate acts of brutality, such as the aforementioned, with zero accountability and complete immunity. The government attempted to assuage the public's fears by emphasizing that language in the bill states that it "will only target images/footage aimed at harming officers' physical or psychological integrity". In other words, protect police officers who are at risk of harassment in the aftermath of an incident. However, the ambiguity of the statement leads the public to worry that judges could be tasked with deciding for which cases it applies and which it does not. The justice system often sides with police officers. Without video or graphic evidence, the victims have no way of proving their innocence.
Upon the announcement of the draft bill, French President, Emmanuel Macron has been accused of cracking down on civil liberties. The bill also faced criticism from various human rights groups, journalists, the European Union, and the United Nations. Amidst a wave of criticism, the French government has agreed to rewrite the bill, which passed the first stage of approval in parliament and now awaits approval of the Senate.
For over 25 years, On Call International has provided fully-customized travel risk management and global assistance services protecting millions of travelers, their families, and their organizations. Contact us today and watch our video to learn more. You can also stay in touch with On Call's in-house risk management, travel health and security experts by signing up for our quarterly Travel Risk Management (TRM) newsletter.
The information provided to you within this report has been compiled from a multitude of available sources and is based on current news and analysis at the time of writing. The security team at On Call International, LLC has provided this analysis, supporting advice and recommendations in good faith to assist you in mitigating risks that could arise. However, no implied or express warranty against risk, changes in circumstance, or other fluid and unforeseen events can be provided. By reading this report, you will agree that any reliance you place on this information is therefore strictly at your own risk and that you will not hold On Call International, LLC or the authors responsible for any inaccuracies, errors or oversights here-in. No part of this publication may be reproduced, stored in a retrieval system, or transmitted, in any form or by any means, electronic, mechanical, photocopying, or otherwise without the prior permission of On Call International, LLC.