Global travel will inevitably be in full swing again, and in the meantime, you're probably asking: How will we know when to restart travel? And how do we know which sources we can trust when making this important decision?
To help answer these questions, we recently teamed up with our friends at Humentum and Allegiant Global Partners to discuss the key factors that impact the decision of when to resume travel. View this webinar for an update on where things stand today, and to learn more about the resources On Call developed to provide credible intelligence in key areas that impact the decision of when to resume travel. On Call's Travel Restart Program starts with an operational status travel evaluation framework that includes COVID-specific factors and other related medical, security, and transportation-related inputs, with an optional location monitoring service. Through this education-based offering, On Call empowers every organization to make proactive, informed decisions around travel, meet their duty of care, and do their necessary due diligence before choosing when to get back out in the world.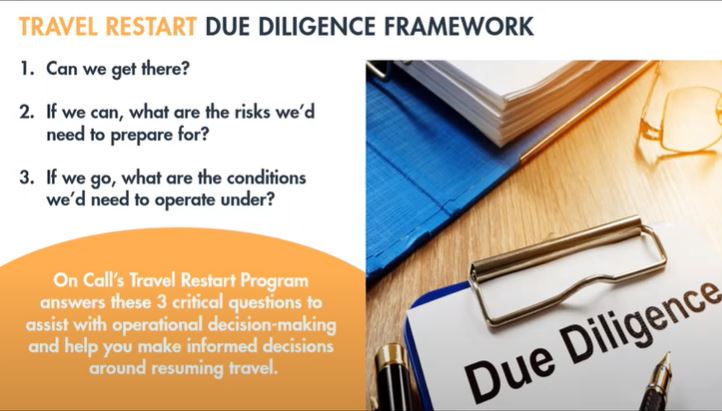 Panel:
Ryan DeStefano, VP Global Assistance Services, On Call International
Kelly Clement, Regional Sales Director, On Call International
Special thanks to our colleagues at Humentum and Allegiant Global Partners for allowing us to present some of our thoughts on restarting travel! We were honored for the opportunity and hope those who tune in will take away some lessons learned. Click here to obtain free access to the on-demand webinar today! 
Want to learn even more about restarting travel?
On Call's in-house travel medical and security experts can help you create and implement a Travel Restart strategy that is aligned with your organization's unique needs. Contact us today if you would like to learn more about getting started with On Call's Travel Restart Program.
For over 25 years, On Call International has provided fully-customized travel risk management and global assistance services protecting millions of travelers, their families, and their organizations. Contact us today and watch our video to learn more. You can also stay in touch with On Call's in-house risk management, travel health and security experts by signing up for our quarterly Travel Risk Management (TRM) newsletter.