The birds are starting to chirp, the tulips are starting to bloom and there is no forecast of snow anywhere in sight. It's official; spring has sprung! Saying goodbye to winter often means tackling inevitable spring cleaning tasks, such as scrubbing every window of your home or cleaning the sand and salt remnants from the snowy roads out of your vehicle. But, have you thought of what else may need some spring cleaning or freshening up? With the summer travel season right around the corner, we thought we'd share some tips on how to "spring clean" your travel habits so you can prepare for your spring or summer trip like a pro.
Travel Habit #1: Lack of Pre-travel Research  Booking a trip to a destination you haven't researched might lead to an experience you'd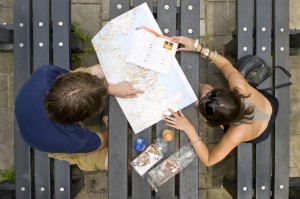 rather forget should a travel emergency occur during your time away from home.
Spring Cleaning Solution: As mentioned in our Travel Resolutions post earlier this year, familiarizing yourself with your destination is one of the best ways to help protect your health and safety while traveling. Visit the CDC's Destination Page and simply choose the country you will be visiting to learn more about prominent diseases, vaccination advice and other related travel health information for before, during and after your trip. For travel warnings, travel alerts and other safety and security advice regarding your destination, visit the US Department of State website, where you can find important information, such as passport and visa requirements.
Travel Habit #2: Overpacking We have all been guilty of this one. Trust us; you're probably not going to need that third sweatshirt just in case it gets chilly during your trip to the Caribbean in June! If you have ever found yourself forgetting you've even packed certain items during the unpacking process, you're an offender of this bad habit.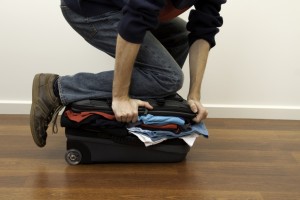 Spring Cleaning Solution: Make a list of the activities you'll be doing during your trip to use as a guide for packing essentials. Remind yourself not to pack too many "just in case" items, such as too many pairs of dressy shoes. Unless you're traveling to the middle of the desert or the top of Mount Everest, if you do end up needing something you didn't pack, chances are you can buy what you need locally. You can also use travel-sized compression bags for bulkier clothes, such as jeans or sweatshirts, which are sure to help you lessen the load of your luggage! PS: If you're headed to a chilly destination, check out our packing tips here.
Travel Habit #3: Taking the Same Vacation…Again and Again Leaving your travel comfort zone may not be easy, but there is a whole world out there just waiting to be visited! We all tend to be creatures of habit, but this is a habit that can easily be broken.
Spring Cleaning Solution: Try something out of your comfort zone! If you're an avid island resort traveler, try booking a European city tour or rainforest adventure in lieu of the same old beach and pool experience you always plan. If you've visited one too many amusement parks with the kids, opt to take them on a hiking and camping adventure instead. Having trouble coming up with something different? Check out Real Simple's list of unique vacation ideas.
Travel Habit #4: Being Afraid to Do As the Locals Do If you're traveling to a popular tourism hot spot, such as Paris or Rome, it's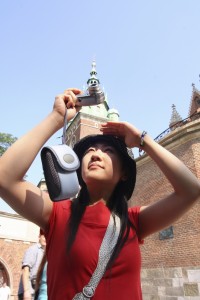 inevitable you'll want to see all the city's main tourist attractions – after all, that's why those spots are famous! However, you may also find yourself behaving as you would at home instead of following local customs and trying new experiences you can only have in your destination.
Spring Cleaning Solution: If you're planning a trip to a major international city, such as Paris, make time during your vacation to visit or  stay in a small town at least two hours away from the city. It's a great way to meet local residents and get a feel for the country's culture outside of the big city. It will also give you a chance to photograph your unique experience and give your friends and family something special to see besides, for instance, the predictable Eiffel Tower photo. Also, learning some common phrases in your destination's local language, such as "Excuse me?" and "How much is this?" is a great idea. This simple step will help to minimize the language barrier and help you make a great impression on locals, not to mention will also give you a deeper understanding of the local culture!
Travel Habit #5: Forgetting Your Travel Assistance Card You may prepare for unforeseen emergencies during your trip by purchasing travel insurance, but have you ever thought of having a plan in place to safeguard against a medical emergency while traveling? While some travel insurance plans offer medical evacuation coverage, they rarely offer you the choice of being evacuated to a more adequate hospital or to the hospital of your choice back home when you need ongoing care for a serious illness, injury or other medical condition.
Spring Cleaning Solution: In addition to purchasing travel insurance, consider purchasing a travel assistance membership before you leave. It not only provides emergency medical evacuation to the hospital of your choice any time you travel more than 50 miles away from home but also provides you with services like prescription replacement assistance and worldwide medical, dental, pharmacy and legal referrals.
Safe Travels!