In today's complex global landscape, having the ability to identify, locate and communicate with your travelers during a crisis is critical to not only keeping them safe—but also meeting your  organization's duty of care. But when your travelers and expats are spread all around the world, this level of proactive and continuous oversight can be difficult to achieve without the right tools and technology in place. In this post, we're covering the most critical aspects of an effective online risk management system as demonstrated through our travel tracking portal, Searchlight*. We'll also discuss how these four powerful components fit into the broader picture of your organization's holistic traveler protection and duty of care strategy.
1. Plan Information Portal
Education and preparation are important components of an organization's duty of care to its travelers. This is why your organization needs a centralized location and "entry point" for travelers to easily access all the travel risk management resources they need before and during their trips. On Call's Searchlight Plan Information Portal (pictured below) is both an easy and consolidated means for sharing information that is most relevant to your travelers such as specific processes for trip registry, pre-travel checklists, customized travel policies, and how to utilize assistance and insurance services. It also provides resources for travelers to use at their convenience to prepare for travel, including advice and information specific to their personal risk profiles and destinations.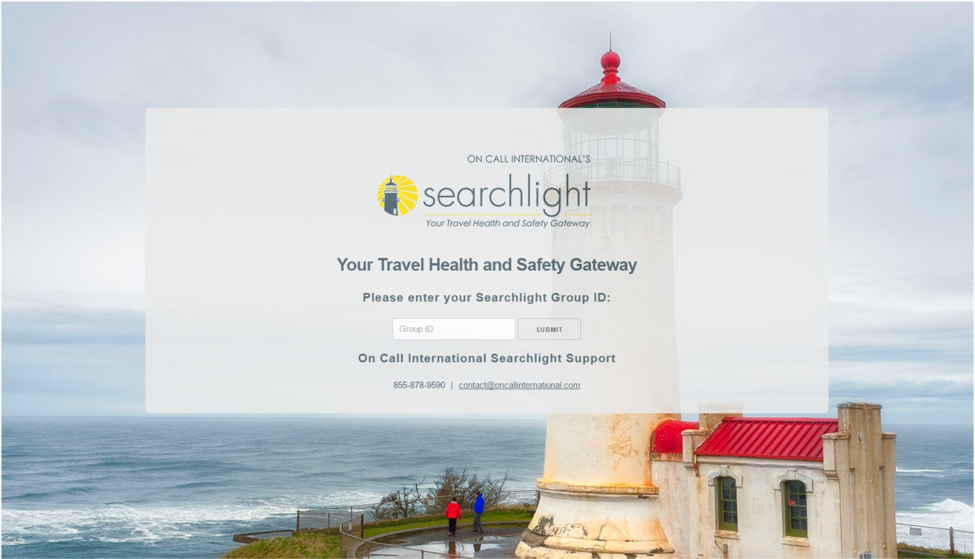 2. Threat and Risk Intelligence Service
Organizations that have a system for monitoring global incidents that could impact the health and safety of travelers in real-time are one step closer to ensuring traveler safety and organizational continuity.  Once you have an entry point or "gateway" established for your online risk management system, now your organization needs a dashboard for monitoring emerging threats and live incidents in real-time. In addition to having access to city and country level risk intelligence for every country and major city in the world, putting that information into context with custom incident alert profiles and geospatial searches that visually summarize travelers in particular areas of interest can help you better understand current incident trends and make more informed travel decisions. For example, On Call's Searchlight Threat and Risk Intelligence Service is accessible by both travelers and administrators and offers multiple data feed overlays that can be configured to personalize the digital map dashboard. This customization helps administrators instantly visualize risks in relation to their travelers' locations.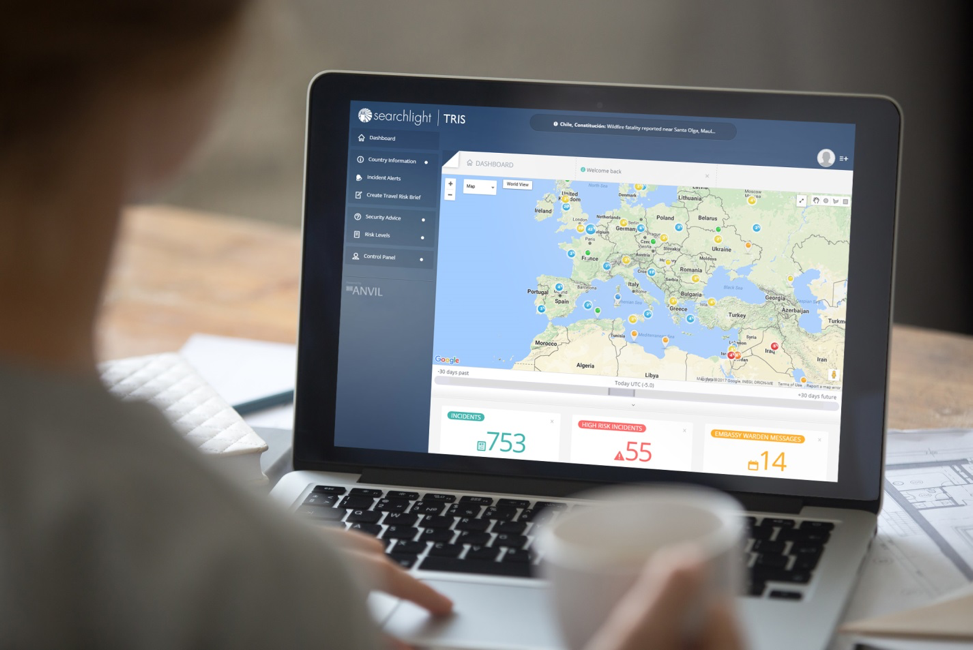 3. Travel Monitoring System
Now that you have an entry point to your online risk management system and a consolidated information resource and digital dashboard, it's time to focus on an actual tool for tracking and communicating with your travelers. As part of our online suite of services, On Call's Searchlight Travel Monitoring System integrates seamlessly with travel management companies and also allows for file upload and itinerary parsing. To communicate important information to travelers, there are automated travel risk briefs and incident "alerts," as well as administrator tools for two-way SMS and email communications. These communications are stored in an activity log, which can serve as a valuable record of duty of care compliance—more than just a "nice to have" in today's evolving and regulated travel risk climate.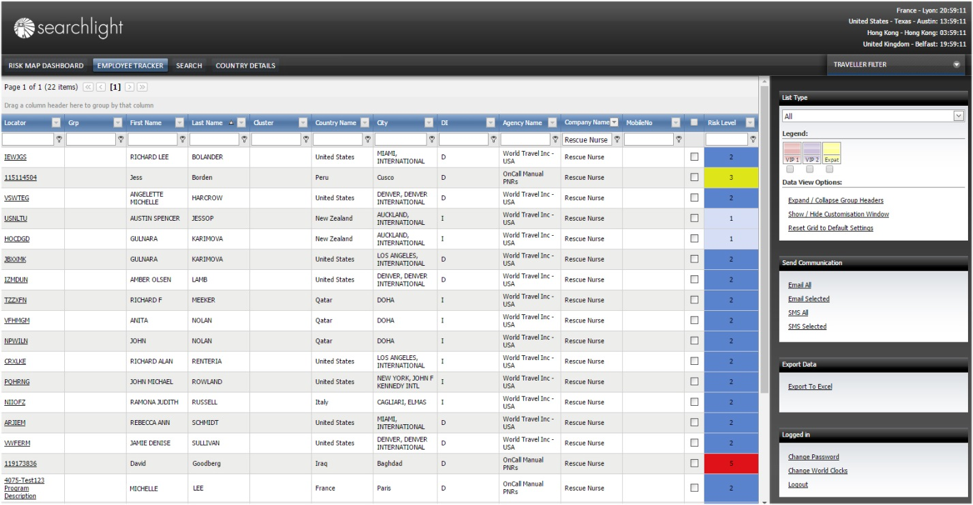 4. Mobile Application
It's no secret that most of us are attached to our smartphones, and travel is no exception. In fact, a mobile phone can be a critical tool in your travelers' risk management "vault"—especially when it integrates seamlessly with your organization's online risk management services. A traveler's connection to health and safety information on the go, Searchlight's mobile application, TripHub, provides travelers with direct access to incident alerts and comprehensive country information right from their mobile phones. Travelers can also manage their alert profiles and connect directly to On Call's Global Response Center right from the app—helping to bring your organization's travel risk management initiatives full circle from proactive information delivery and traveler oversight, to instantaneous access to crisis response.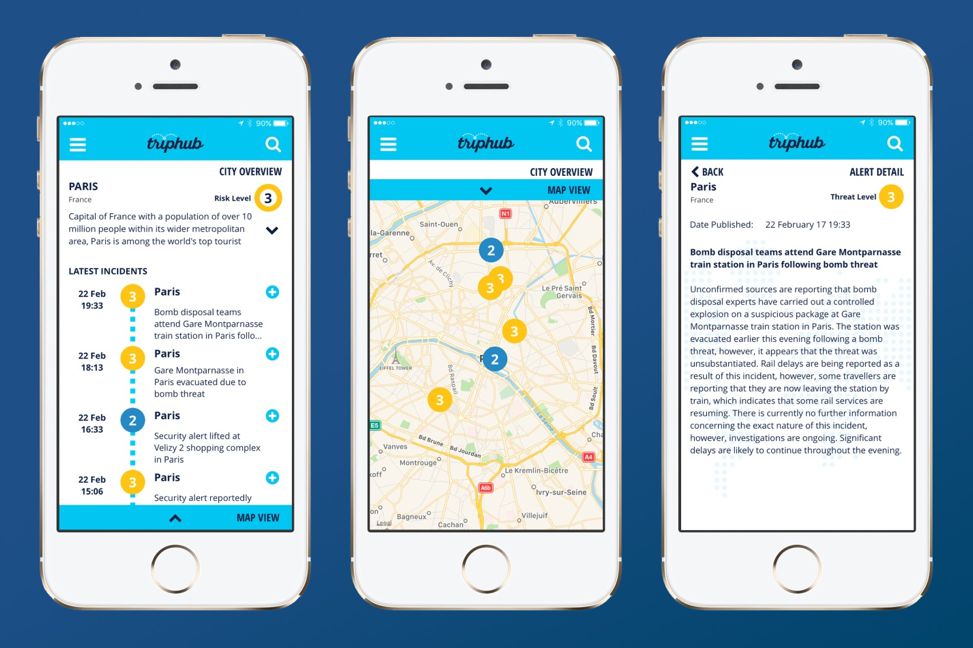 There you have it! While these are not the only four components of a holistic online risk management strategy, they serve as a great foundation for organizations who wants to start leveraging the benefits of technology to help protect their travelers and meet their duty of care.
Want to learn more about Searchlight, On Call's powerful travel tracking platform and online resource center? Contact us today.
*On Call International has partnered with Anvil Group, a renowned operational and travel risk management specialist, to provide you with Searchlight.