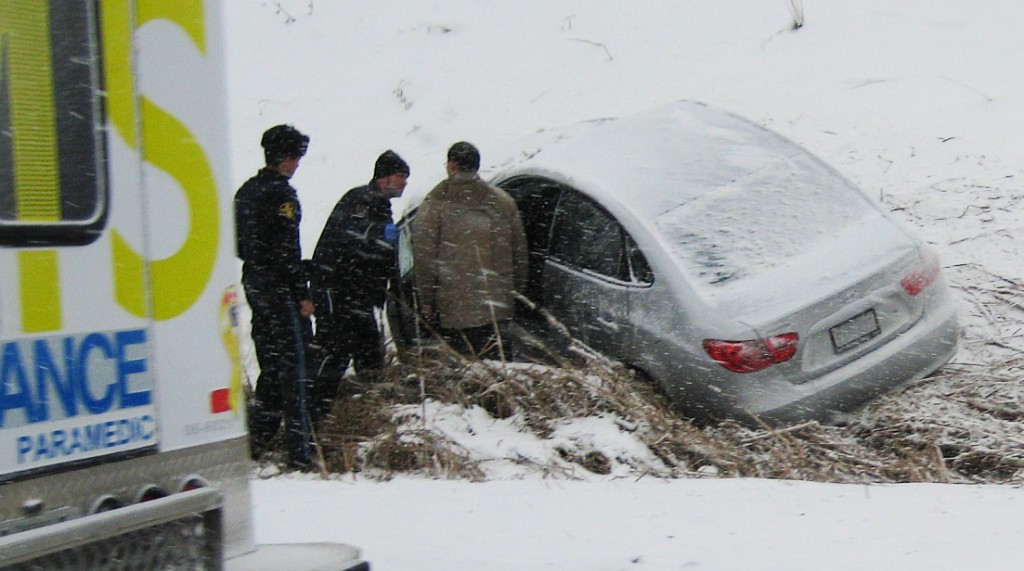 Attention road warriors! Whether or not you love winter  (and the driving conditions that come with it), you should pay attention to the 2014 winter forecast for several regions of the U.S. from the likes of AccuWeather, the Weather Channel and the National Weather Service. Even the most experienced drivers can run into unexpected emergencies when the roads get slick. That's why it's so important to be prepared for your winter travels (and those important business meetings!) with your very own emergency road kit. Not a big do it yourselfer? No problem!  You probably have many of these items on hand — if not, most can be found at your local drugstore, supermarket, or auto parts store.
Bag of sand, salt or cat litter (for traction if you get stuck in snow)
Battery-powered radio with extra batteries
Blankets
Booster cables, flares, tire pump
Cans (to melt snow for water)
Candles and waterproof matches
Canned compressed air with sealant (for emergency tire repair)
Chains or rope
Compasses and maps (don't rely on your smartphone or GPS system in your car for emergency situations – anything can go wrong!)
Emergency warning flares or triangles
Extra winter clothing, such as gloves, hats and jackets
Flashlight and extra batteries
Ice scraper and a snow brush
International Driving Permit (IDP ) if you're planning on driving abroad
Nonperishable snacks and extra water
Paper towels
Plastic bags (for sanitation)
Roadside Assistance Membership Card
Shovel
Travel Assistance Membership Card – if you get sick or hurt and need emergency medical assistance when you're more than 50 miles away from home.
Toolkit
Note: It's also a good idea to check with your mechanic in case there are other precautions you should take specific to your car.
For more winter driving tips, you'll also enjoy reading:
Winter Driving Tips Part 1: Winterizing Your Vehicle
Winter Driving Tips Part 2: Driving Advice for Winter Travelers
Photo credits:
Car in ditch from Theonlysilentbob
Car trunk from  State Farm
Compass and map from Simon Shek