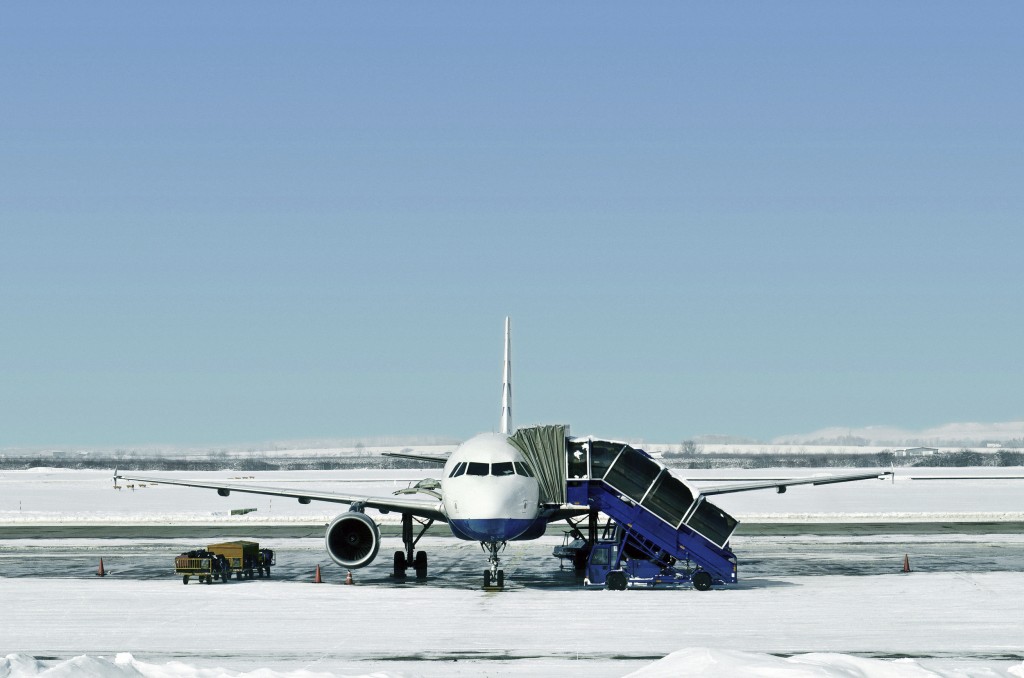 The Old Farmer's Almanac  predicts that the winter of 2015 will be another arctic blast with above-normal snowfall throughout much of the US. "Be prepared," says Janice Stillman, editor of The Old Farmer's Almanac. "There's plenty in the forecast to cause all sorts of mayhem." Don't have the time (or patience!) for mayhem? We don't blame you! Here are 7 tips for safer and less stressful winter travels.
1) Check the weather early (and often): Many travelers will wait until a storm hits to start making other provisions, but, why wait? If you can manage to stay ahead of a major weather system, you can start to get your contingency plans in place. Believe it or not, winter weather forecasting is pretty reliable and storms can usually be predicted at least 48-72 hours ahead of time (in the summer it's a little trickier since thundercloud formation can occur fairly quickly). And staying on top of the weather is easier than ever these days with mobile apps giving us real-time updates and notifications 24/7. Social media channels like Twitter are also a great go-to source for the latest travel weather updates.
2) Winterize your vehicle: If you live in a region that doesn't have extremely mild and dry winters, don't expect your vehicle to function properly without some extra TLC. Follow our tips in this post and your vehicle will be in tip-top shape for your winter road travels.
3) Stay attentive: Now that your vehicle is ready to go, it's time to think about how to actually survive the snow and ice when you're behind the wheel. While the single best advice for driving in bad winter weather is not to drive at all, if you must venture out, check out our driving tips for winter travelers. We'll discuss proper braking techniques, how to survive a skid, advice for driving up snowy hills and more. We'll also share what to do if you're stranded… spoiler alert: an emergency road kit, travel first aid kit and travel assistance card can go a long way!).
4) Book your flights wisely: Flight cancellations, delays, cranky travelers…need we say more? The hassles that can come with flying in bad winter weather are different than when you're driving, but just as challenging. So be wise when you're booking your flights. Fly direct when possible and if you have the opportunity to choose an early morning flight, take it. Why? The chances of having your flight affected by problems at other airports are less, and if your flight is cancelled or delayed, you'll be more likely to find a different flight for the same day than travelers who got a later start.
5) Think about connections: Say you're headed to California and one of your connections is in Chicago, where you know a snowstorm is headed (because you followed tip #1!). Call your airline as soon as you catch wind of the potential for bad weather and see if your connecting flight can be rerouted to a different part of the country. This may complicate things a bit, but at least you won't be sleeping in a chair at the airport!
6) Book a hotel room: Since many hotels don't charge your credit card until 6pm local time, making a "just in case" hotel reservation in advance is a great way to prepare for unplanned layovers or less than favorable road conditions—just make sure to check the hotel's cancellation policy before you book to avoid any cut-off times if you end up catching a flight! But don't delay– if you wait until everyone else is stranded and trying to find a hotel room, chances are you'll be out of luck.
7) Be prepared: Winter weather travel emergencies are not only annoying, but they can be hazardous to your health and safety.  Many companies partner with travel risk management companies like On Call International to provide travel emergency services to their employees. If your employer doesn't, you can buy your own — our single trip memberships start as low as $55. An On Call membership not only provides emergency medical evacuation to the hospital of your choice, but it can also assist you with other winter weather travel headaches such as rescheduling your travel plans, making hotel accommodations, delayed baggage, prescription replacement and more.
Safe Travels!