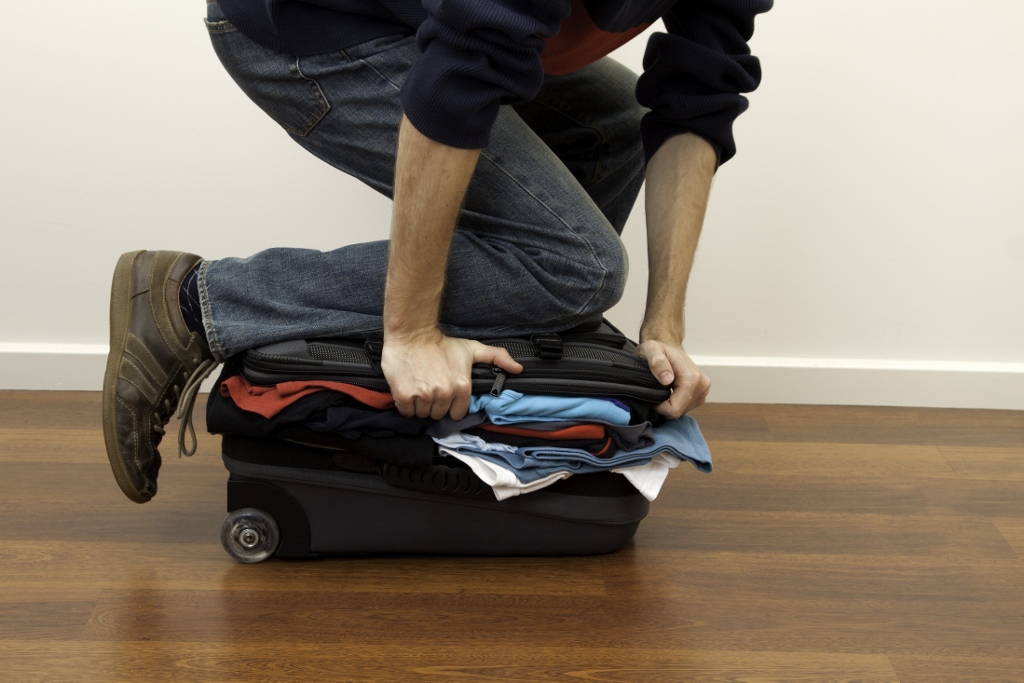 Travelers planning trips to cold weather destinations are faced with an interesting conundrum: Over pack and you'll be dragging unwanted weight and bulk through airports, hotels and new cities. Under pack and you could find yourself on a wild goose chase, scouring shops in unfamiliar destinations for what you need to stay warm. Have no fear – we've compiled a list of 7 tips to help you pack the perfect bag (don't forget to include your On Call membership card!) for your wintery destination:
1. Wear your heaviest items:
Carry or wear your coat on the plane with your scarf, gloves, and hat tucked away in the pockets (or shoved into the sleeves), to free up more space in your suitcase and carry-on. Same goes for boots – wear these on the plane and just think of how much suitcase space you'll save!
2. Use compression bags:
Many people utilize these in their homes, but did you know they also make them sized for travel? They are especially useful for chunkier items, such as sweaters and blazers. No vacuum required – just put the item inside the bag, zip the bag closed and roll it up. You'll hear the air release as you do. Cool, huh?
3. Choose accessories wisely:
When it comes to gloves, scarves and hats, recite these three words: warm, waterproof and thin. If you can choose items that perform multiple functions, such as keeping you dry AND warm (while being light enough to tote around with ease), you'll be much better off.
4. Master the fine art of layering:
Don't want to spend a fortune on cold-weather gear? We don't blame you! However, as a tradeoff, you'll need to learn how to pack your layers the smart way. Try this "morning routine" layer packing list that is made up of items you already own. It's flexible enough so you can add or remove layers as needed:
Long sleeve shirt that you would wear while making coffee indoors.
Sweatshirt that you would wear on top of the long sleeve shirt for walking out your front door to let the dog out.
Fleece, sweater, or light jacket that you would wear on top of the long sleeve shirt and sweatshirt for letting the dog back in and then walking to the mailbox to get the morning mail.
Outer shell (preferably windproof and waterproof) to wear over the previous three layers for walking to the mailbox in the rain.
BONUS: For those spending a little more time outdoors (and we're not talking about an outdoor activity like skiing – that presents its own set of packing challenges ), consider packing a bottom layer (like long underwear) to keep your legs comfortable in the cold. While you can't easily take them on and off (in public that is!), they are essential for those spending extended time in the great outdoors.
5. Don't skimp on socks:
Avoid socks with cotton in them and instead, opt for socks made of wool, IsoWool, shearling, fleece and similar type synthetic materials. The reason these socks are excellent for winter wear is because if they get wet, they do not lose their insulating properties – thus keeping you warm and dry! Stuff them inside your shoes to save even more space in your luggage.
6. Reuse and recycle:
Remember this: In cold-weather, clothes can be worn more times than in a hot climate. Therefore, you can pack fewer items of clothing to begin with and items do not need to be washed as often as when traveling to warm-weather destinations. If you're following our advice in tip #4, make sure all your layers are in the same color palette so you can mix and match a few items into multiple outfits.
7. Don't forget your sunscreen and shades!
Even in the winter? Absolutely! A windburn or sunburn from reflections off snow or ice is just as painful as a sunburn you would get after sitting several hours in the hot sun. And, when sunlight is reflected off the snow (ouch!), you'll be happy you brought those sunglasses.
Drivers beware: when the sun is lower in the sky, your driving visibility could be drastically affected – a good pair of polarized sunglasses should do the trick.
Follow these tips and you'll be well on your way to staying warm and comfortable on your next winter trip!
Safe Travels!