Following the attacks in Paris and Brussels, there has been significant focus on security and what that means for U.S. travelers in Europe. On May 31, 2016, the State Department issued a travel alert specific to those headed to major sporting events. "Euro Cup stadiums, fan zones, and unaffiliated entertainment venues broadcasting the tournaments in France and across Europe represent potential targets for terrorists," the State Department states in its alert. Additionally, France's government recently extended the country's state of emergency through the end of July. According to Nick D'Intino, On Call Watch Officer who oversees travel security for our clients traveling in Europe, "There's certainly a 'new norm' for those headed to Europe this summer. This requires both travelers and their organizations to remain vigilant of travel safety elements they may not have considered in the past." Share this information from Nick with your travelers attending the games or planning travel to France during the tournament to help ensure a safer trip: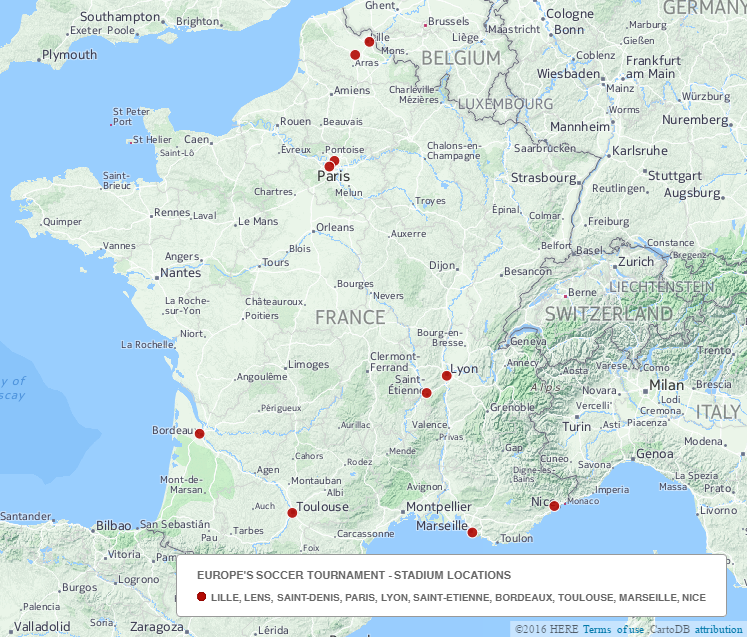 Understand the Risks: Although terrorist organizations have expressed their desire to target large-scale events, they have shown little success at attacking venues with increased security measures. Nevertheless, travelers should always proceed with caution as different environments provide varying levels of risk. For example, areas with multiple layers of security (e.g. courthouses, government buildings, prominent sporting events, or airport terminals after you get past security) are very difficult to infiltrate, but are also an ideal target for terrorists.  In comparison, an area or location that is relatively unprotected (e.g. a movie theater, restaurant, market place, or office building) remains more vulnerable to an unexpected attack, but is also less enticing to terrorists. Your organization's travel risk management firm can help you better understand these varying levels of risk and the appropriate precautions that should be taken.
Expect More Security: There's no doubt security concerns surrounding Europe's soccer tournament have been amplified by recent events and highlighted by the media. However, the good news is French law enforcement officials are held in high regard and are dedicating a significant amount of resources to help ensure safety during the tournament. What does this mean for travelers? Well, for starters, they can expect heightened security (and potential disruptions and delays) throughout France, including an increased police presence and multiple layers of security at sporting and entertainment venues. There will also be "invisible" security measures in place such as drones, no fly zones and social media/web traffic monitoring.
Stay Connected:  Since information can change at a moment's notice, encourage travelers to keep tabs on alerts and warnings from the U.S. State Department. They can also follow the State Department on Twitter (@travelgov) and the Bureau of Consular Affairs on Facebook. Staying connected through the State Department's digital channels and also keeping tabs on France's local news outlets helps keep travelers informed and better connected. Why local? Because the news may not make its way over to U.S. media outlets right away. For example, recent reports around labor strikes threatens to wreak havoc on France's air, rail and metro transport systems. And just this past weekend, flooding in France caused one billion euros worth of damage. Keeping up-to-date on these reports can save your travelers a lot of headaches…and the delays and disruptions that can come with them.
Share Plans: For an extra layer of protection, travelers should leave a copy of their itinerary, hotel information and a contact number with a trusted colleague, family member or friend.  They should also enroll in the State Department's Smart Traveler Enrollment Program (STEP) and download the corresponding app so they can receive up-to-date travel safety information right to their mobile devices. Enrolling in STEP also makes it easier for the U.S. Embassy or Consulate to contact them during an emergency. In addition, they can specify the people who are allowed to know their whereabouts through contact with the Department of State. If travelers have plans that take them outside their expected destinations, encourage them to share travel plans and locations with the organization in case of an emergency.
Be Aware and Vigilant: There's a variety of different factors that can put one at risk even in a well-developed country—and the large crowds that come with major sporting events and summer tourism also present some unique risks to anyone traveling in Europe. However, simply being aware of one's immediate surroundings and exercising vigilance when in public places can go a long way. For example, when entering a crowded building or arena, know where the emergency exits are (research venues ahead of time, if possible—many venues have stadium maps).  If a traveler sees something that doesn't feel or look right, encourage them to engage local officials and follow their instructions during an emergency. Walking with confidence and purpose and being aware of the safest (and fastest) ways to get back to their places of lodging are also simple but effective ways to protect one's personal safety—as is monitoring media and local information sources and factoring updated information into travel plans.
Know How (and Whom) to Call for Help: In addition to significant police and private security presence at the tournament itself, travelers in need of emergency services in France can dial 1-1-2 and an operator will direct them to the appropriate resource (police, fire, medical etc.). If your organization works with a travel risk management firm like On Call, travelers should also have their contact information handy for easy retrieval. And one last important (and often forgotten) tip: make sure travelers enable international dialing on their mobile phones and that they're well-versed on how to place international and local phone calls from their destinations (it's trickier than one may think!).
…And most importantly, have fun!  As Nick puts it, "France has an extensive infrastructure and very capable law enforcement officials. If travelers plan accordingly and take ownership of their personal safety, then they are much less likely to encounter an issue while in France."
For more information regarding the current security landscape in France and holistic travel risk management, contact us today.
*Information presented is based on current information at the time of writing. For up to the minute updates, On Call clients can call us anytime.