The pandemic has created an even greater need for mental health support services to all students, despite the location of their studies. This has left many institutions asking some very important questions:
What can we do to support our students who are remote learners due to COVID-19?

How do student nationality and cultural reality impact on best practice wellness interventions?

What are the most common problems that counselors can help resolve?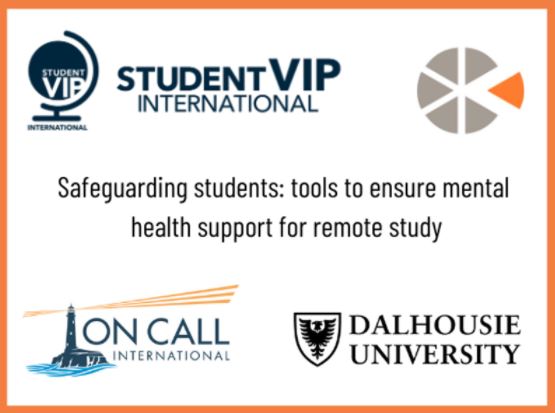 To help answer these questions, we recently teamed up with our friends at Student VIP International and Dalhousie University to discuss the need and effectiveness of digital mental health and wellness programs, as well as innovative ideas and solutions to help support students in our new disrupted study reality.
Watch this informative webinar to learn how global access to counselor-led intervention and technology can make a huge impact, and watch the panel address your peers' most critical questions regarding how to best support students with a limited staff resource. You will leave this collegial conversation with some new insights and perspectives on international student counseling—this is an interactive discussion that you don't want to miss!
Panel:
Kristin Toth, Senior Operations Director, On Call International

Samantha Morneau, Director, Student VIP International

Sean Hardman, Senior Account Manager, Student VIP International

David Pilon, Director of Counselling and Psychological Services, Dalhousie University

Host & Chair: Amy Baker, The PIE
Special thanks to our hosts at the PIE and our colleagues at Student VIP International and Dalhousie University for allowing us to present some of our thoughts on supporting remote learners! We were honored for the opportunity and hope those who tune in will take away some lessons learned. Click here to obtain free access to the on-demand webinar today! 
For over 25 years, On Call International has provided fully-customized travel risk management and global assistance services protecting millions of travelers, their families, and their organizations. Contact us today and watch our video to learn more. You can also stay in touch with On Call's in-house risk management, travel health and security experts by signing up for our quarterly Travel Risk Management (TRM) newsletter.