A big "Thank You" to everyone who joined us at NAFSA's 63rd Annual Conference and Expo! Nearly 9,000 people from around the globe flocked to Vancouver for the largest international education event in the world.
View from the NAFSA Conference in Vancouver, BC, Canada
NAFSA 2011 Conference and Expo not only featured educational seminars and stimulating guest speakers, but also thrilling special events from acrobats to a flash mob!
Our Global Academic Risk Solutions team made the most of this networking opportunity, making valuable connections with about 500 visitors to our booth. If you missed the show or were unable to stop by and are interested in learning about our medical, security and travel assistance services, download our executive summary.
On Call's booth in the NAFSA Expo Hall
Overall, we enjoyed the insightful workshops, enlightening lectures, and meeting with the esteemed partners that NAFSA 2011 Conference and Expo offered. Plus, our On Call eco-friendly water bottles were a huge hit!  We spotted them all around Vancouver—including at Roger's Arena, as the Canucks faced the Boston Bruins in Game 1 of the Stanley Cup finals.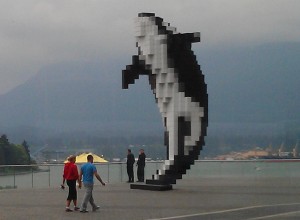 Check out this this cool "Digital Orca" right outside the Convention Center!
We'll see you in Houston for NAFSA 2012!  In the meantime, check out our executive summary to learn more about our medical and travel assistance services.
Safe travels!