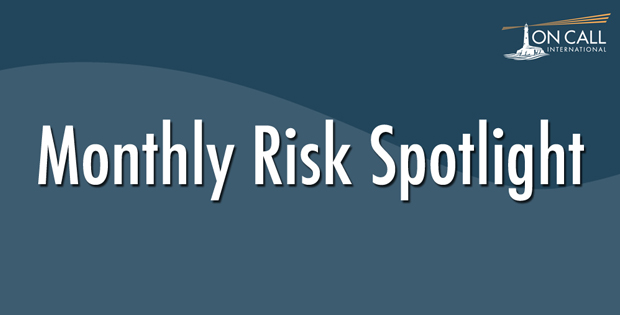 AMERICAS
Widespread Protests Against Police Brutality and Systemic Racism in the United States
Major protests erupted across all 50 states of the U.S. following the killing of an unarmed black man, George Floyd, by police officers in Minneapolis, Minnesota on the 25th of May 2020. The incident, which was captured on video and is being widely circulated internationally, saw four police officers detain Mr. Floyd after he was accused of using a counterfeit $20 bill to make a purchase. One of the officers, Derek Chauvin, was charged with second-degree murder after forcefully pressing his knee on Mr. Floyd's neck for almost nine minutes, as Mr. Floyd cried out for assistance and subsequently lost consciousness. The other three officers present have since been charged with aiding and abetting.
What began as protests in the Minneapolis/St. Paul Metropolitan area to bring charges against the officers has since grown to a nationwide (and international) protest movement against the U.S. criminal justice system and broader racism in U.S. society against black and minority Americans. While the majority of protests across the country remain peaceful, riots, looting, and associated violence have resulted in several deaths, thousands of injuries, and significant property damage in some areas. Several people have been killed by police gunfire, and hundreds more injured nationwide by batons, rubber bullets, tear gas, and other crowd dispersal tactics used by police. Numerous police officers have also been injured in street scuffles, and in some isolated cases, shootings and other violent incidents. Credible accusations by local and state officials of the involvement of extremist groups, both left wing and right wing , have emerged in different locations, though the extent of such involvement remains unclear. The nature of the protests, and the level of violence and property damage varies significantly between different cities.
A decentralized movement to address longstanding racial inequalities, especially as they relate to policing and violence perpetrated by police in each distinct locality, has found widespread support across different cross sections of the population and from civil society organizations. Black Lives Matter and other civil society groups focused on minority rights have emerged as the primary organizers of the movement.
At the federal level, President Donald Trump has repeatedly called on governors and municipal leaders to deploy National Guard units and other law enforcement agencies to "dominate the streets" and use force to prevent riots and looting. He is reportedly considering using the Insurrection Act of 1807 to deploy United States military forces to areas impacted by protests should they continue to grow. As of the 3rd of June, at least 11,000 demonstrators have been arrested and some 17,000 National Guardsmen have been deployed in 24 states and Washington D.C.
While the protest movement remains decentralized and primarily organized by different groups of protestors at the local level, over recent days, the movement has begun to coalesce around certain policy initiatives. These initiatives, notably the 8 Can't Wait movement which focuses on implementing targeted reforms on the use of force in police departments nationwide, appear to be gaining momentum and may prove to be key issues in the coming 2020 U.S. Presidential Elections.
M

IDDLE EAST AND NORTH AFRICA
Libya's GNA Forces Recapture Key Territory, Reflecting Shift in Year-Long War 
This month, military forces affiliated with Libya's Government of National Accord (GNA) recaptured key territory from the Libyan National Army (LNA), a rebel force led by military commander Khalifa Haftar. The latest developments point to a shift in the year-long conflict, as the LNA continues to lose territory and retreat from positions outside the capital of Tripoli.
In April 2019, the Libyan National Army (LNA), led by General Haftar, launched an offensive on Tripoli, in an attempt to seize power from the UN-supported Government of National Accord (GNA). In March 2020, the Libyan government launched Operation Peace Storm to counter LNA attacks on the capital and recapture key strategic locations, including the al-Watiya airbase in Western Libya.
Control over the al-Watiya airbase has long been considered a key strategic asset since the onset of the war. Until recently, the airbase was considered General Haftar's last major rebel stronghold in Western Libya. LNA forces had used the base to launch air strikes targeting government troops in multiple locations. Accordingly, much of the fighting throughout the last year has centered on this location, along with the Tripoli International Airport, and southern suburban areas outside the capital of Tripoli.
In May 2020, GNA forces successfully recaptured the al-Watiya airbase from General Haftar's LNA forces, after nearly two months of operations to seize the airbase. This key victory has allowed the government to focus on repelling LNA fighters in Tarhunah, south of Tripoli, the last line of Haftar's LNA offensive.
Accordingly, these developments have coincided with recent GNA gains in the other regions of the country.  Just weeks later, on the 3rd of June, GNA forces seized control of Tripoli International Airport (TIP). The GNA also recently regained control over a number of southern suburbs in the capital of Tripoli, underscoring the LNA's shortcomings. On June 3, LNA forces retreated from positions in Ain Zara and Wadi Alrabea to the Fam Mola checkpoint near Tarhunah. According to local media, the LNA has also withdrawn from the Alasaba territory in the Nafousa Mountains, just days after taking the area on the 1st of June.
These developments are pointing towards a shift in the year-long war, in favor of the UN-supported Government of National Accord (GNA). LNA setbacks have been further reflected by the recent withdrawal of Russian military contractors previously supporting Haftar's LNA forces. In late May, the Libyan government reported that hundreds of Russian military contractors had been evacuated after retreating from the front lines. These fighters reportedly retreated to Bani Walid's airport, where they were then flown out of western Libya to Jufra, a remote central district and LNA stronghold.
Egypt, which has supported General Haftar, recently proposed a unilateral ceasefire that was rejected by the GNA. With the momentum of their side, the GNA has vowed to retake the city of Sirte. Sirte, which acts as a strategic gateway to Libya's main oil export ports in the east, was captured by LNA forces in January. This is the same city where former Prime Minister, Muammar al-Gaddafi, put up a last stand in 2011 before being killed. At the time of this piece, GNA forces continue to mobilize in preparation for an offensive on Sirte.
ASIA-PACIFIC
Afghanistan's Status Following the Signing of the US-Taliban Peace Agreement
On the 29th of February, representatives from the United States, led by special envoy Zalmay Khalilzad, and representatives from the Taliban signed a peace agreement in Doha, Qatar, in what the US hoped would bring an end to America's longest war, while bringing peace to Afghanistan. The agreement stipulated that foreign troops would begin withdrawing from Afghanistan while the Taliban agreed to prevent any groups from attacking the US or its allies operating within Afghanistan. Furthermore, the agreement established plans for prisoner swaps between the Taliban and Afghan government while planning for direct peace talks to be held between the two groups. As seen in the months following the signing of the peace agreement, however, several of its provisions have yet to be fully realized and violence continues to rise in Afghanistan.
The US, for its part, has abided by its agreement to drawdown and eventually completely withdraw foreign troops. Alternatively, the Taliban does not appear to be completely holding up its side of the deal. A recent report released by the United Nations indicated that the Taliban still maintains close ties with al-Qaeda, thus breaking this stipulation of the agreement. It can be noted, however, that the Taliban appears to be making a concerted effort to combat the Islamic State's affiliate in Afghanistan, known by the name Islamic State in Khorasan (ISK). This group is suspected of being behind a recent heinous attack on a Kabul maternity ward, resulting in several deaths.
While the Taliban has certainly not fully lived up to its side of the deal, they cannot be entirely blamed for not fulfilling their other obligations as stipulated by the agreement. The Afghan government has at times disputed its obligation to release Taliban prisoners, thus stalling the prisoner exchange as agreed. Moreover, September 2019's contested presidential elections in Afghanistan left the government with no clear leader. This in turn delayed direct peace talks between the Taliban and the Afghan government. As of the 17th of May, however, Afghan political rivals Ashraf Ghani and Abdullah Abdullah agreed to a power-sharing agreement, by which both would maintain authority within the government. On a positive note, Abdullah has been appointed to head peace talks with the Taliban, thus showing the Afghan government is finally taking an active role in coming to an accord. Moreover, a three-day ceasefire at the end of May shows that both sides are willing to find common ground.
As things stand now in Afghanistan, there is hope that the Taliban and Afghan governments can reconcile and bring lasting peace to Afghanistan. That said, increasing violence in Afghanistan indicate that peace talks likely have a long way to go before a comprehensive accord can be agreed upon by all parties involved in the ongoing Afghan conflict.
SUB-SAHARAN AFRICA
Disaster Looms in the Democratic Republic of Congo 
In recent weeks, the Democratic Republic of Congo (DRC) has seen a surge of crises emerge and remerge on its fragile territory. These crises range from public health issues to sporadic militia violence. Although the DRC is well acquainted with the burden of plights, the pile up of unrelated crises from west to east is threatening to lead the country into a deep state of disaster. An additional cause for worry is that the government has often demonstrated a lack of capability to respond proportionally and swiftly to varied crises. Given the multitude of pressing concerns to be addressed, intervention by regional and international actors may become necessary in order to avoid regional catastrophe.
Eastern DRC has been plagued by ethnic violence for years. The provinces of Ituri, North Kivu, and South Kivu, in particular, have seen multiple episodes of mass slaughters, rapes, and destruction of property by different militia groups. Back in April, three major incidents highlighted a surge of deadly armed attacks in eastern DRC. The first involved two unconnected assaults, rooted in ethnic strife, which occurred on the same day in different provinces of the east, resulting in over two dozen lives lost. The militia groups, the Allied Democratic Forces (ADF) and the Cooperative for the Development of Congo (CODECO) were identified as the perpetrators. A week later, a violent attack at the Virunga National Park, a UNESCO World Heritage site, resulted in the death of 17 people, amongst them 12 park rangers. A Rwandan Hutu-dominated rebel group, the Democratic Forces for the Liberation of Rwanda led the assault. That weekend, three days of fighting ensued between armed groups and army soldiers, following a number of attacks by the ADF and other unidentified armed groups. Increased attacks against civilians by armed groups in eastern DRC has alarmed security experts. The numerous groups active and gaining terrain in this part of the country, make the prospect of peace appear unattainable. In addition to armed groups assaulting civilians, military and police forces also take part in abuses. Mistrust of and inaction by government security officials has the potential to lead to a growth of self-defense groups. When civilians fill the vacuums left by their government, and take on the duties to protect their own, self-defense often resembles predation.
While the east battles with increasing violence, on the west, a fresh outbreak of the Ebola virus disease was identified in Mbandaka, a city in the Équateur province. The western region experienced mild cases of the previous Ebola outbreak, which ravaged the east beginning in 2017, an outbreak which was to be declared over early this year. Additional cases discovered this past April in the Kivu provinces prevented the World Health Organization (WHO) workers from achieving this milestone. The new discovery of cases and the five deaths announced in Western DRC are worrisome as the virus traveled from the east point to the west undetected, in a country as vast as the DRC. Although much of the world's attention is on the current pandemic, a return of Ebola may necessitate global attention.
EUROPE/CENTRAL ASIA
Political Tensions Escalate In Russia 
Citizens in Russia continue to flout societal norms by protesting the continuing crackdown on free speech and independent journalism under President Vladimir Putin's regime. Journalist Ilya Azar was arrested on Wednesday, 28th of May, following a solo protest against the imprisonment of social activist, Vladimir Vorontsov. A former police officer, Vorontsov runs an online platform dedicated to exposing abuses within law enforcement. Following the arrest of Azar, citizens in Moscow and the Siberian cities of Yekaterinburg and Novosibirsk staged solo protests calling for Azar's release. In response, Russian authorities arrested at least 8 individuals in Moscow, and several in Yekaterinburg and Novosibirsk under the charge of breaking mass gathering restrictions implemented due to the current pandemic. Human rights platforms and citizens have spoken out against these arrests, claiming that the protests were solo and not part of a mass gathering, and accusing the Russian government of using the pandemic as a guise to crack down on increasing unrest and discontent amongst the population.
Recent protests are continuing along the same line as previous ones, which took place throughout Russia in the summer of 2019. These protests were aimed at the Russian Federal government's efforts to prevent independent candidates from running for Moscow's city council. Numerous individuals and journalists were arrested for protesting, with a record 1373 citizens detained on the 27th of June. The continuity of protests indicates that a growing number of Russian citizens are becoming unsatisfied with governmental crackdowns on free speech and public gatherings. In a controversial announcement, Putin recently declared that he would again run for President in 2024, after proposing constitutional reforms that would remove the four-term limit for Russian presidents. These reforms will be voted upon by the Russian public on the 1st of July, 2020. It is possible that increased civil unrest could occur throughout Russia in the weeks leading up to and following the referendum.
For over 25 years, On Call International has provided fully-customized travel risk management and global assistance services protecting millions of travelers, their families, and their organizations. Contact us today and watch our video to learn more. You can also stay in touch with On Call's in-house risk management, travel health and security experts by signing up for our quarterly Travel Risk Management (TRM) newsletter.
*The information provided to you within this report has been compiled from a multitude of available sources and is based on current news and analysis at the time of writing.  The security team at On Call International, LLC has provided this analysis, supporting advice and recommendations in good faith to assist you in mitigating risks that could arise.  However, no implied or express warranty against risk, changes in circumstance, or other fluid and unforeseen events can be provided.  By reading this report, you will agree that any reliance you place on this information is therefore strictly at your own risk and that you will not hold On Call International, LLC or the authors responsible for any inaccuracies, errors or oversights here-in.  No part of this publication may be reproduced, stored in a retrieval system, or transmitted, in any form or by any means, electronic, mechanical, photocopying, or otherwise without the prior permission of On Call International, LLC.