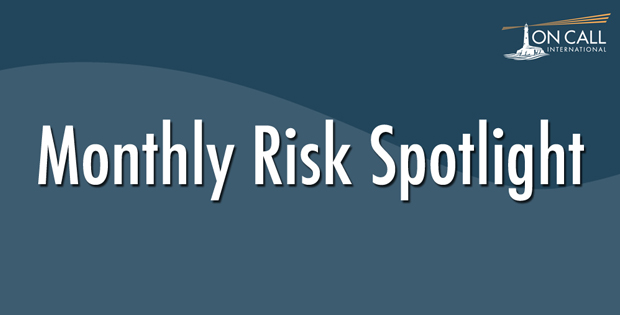 AMERICAS
Protests and Root Causes in Ecuador
On 28 June Guillermo Lasso, Ecuador's first center right President elected in close to two decades, narrowly avoided being impeached after just over a year in office. What precipitated that vote, which saw 80 national assembly representatives support the measure (just 12 shy of the 92 needed to oust him) was obvious: Over 18 days of nationwide demonstrations which saw highways blocked, food prices in the capital multiplied, oil extraction (Ecuador's biggest export) halved, and six people killed in violent clashes. Demonstrations began on 13 June in response to the rising cost of living and were organized by the powerful indigenous rights group the Confederation of Indigenous Nationalities of Ecuador (CONAIE). CONAIE is a major player in Ecuador politics known for successfully wielding similar mass protest tactics to oust President Lucio Gutiérrez in 2005 and disrupt foreign mining operations in 2012 under President Rafael Correa. An agreement has been struck to end the current protests involving increased fuel subsidies and new limits on oil and mining developments, but the protests have been costly. Current estimates by the Ecuadorian Central Bank put the price of the near three weeks of disruptions at over 1 billion USD. Potentially more important, the economic problems driving the cost-of-living increases and thus protests are arguably farther from a solution today than they were at the start of June.
President Lasso and his party Creando Oportunidades (CREO) are commonly described as socially conservative and business friendly. Policies passed under his tenure have focused on attracting foreign investment and fostering entrepreneurship, presenting Ecuador as a safe and attractive place to do business, at its most basic following an economic logic that "rising tides lift all boats." However, in a national political landscape just recently redefined by a decade under populist Rafael Correa, the policies pursued by President Guillermo Lasso are a marked contrast and have inevitably faced some resistance. One particularly controversial law passed by his administration works to ease the tax burden for the wealthiest at the expense of the middle class.
Despite that, after being elected in May 2021, President Lasso did enjoy some initial success. His administration successfully renegotiated a loan with the IMF to more favorable terms and oversaw an enormously successful vaccination effort. These achievements saw his approval rating reach 74%, an exceptionally high number for a leader in the region (or world) during that time. But things began to turn in the fall of 2021, starting in October when he was named in the Pandora Papers accused of tax fraud. This precipitated the crumbling of his political support beyond CREO in the National Assembly, effectively blocking his ability to get legislation of any kind passed for the past six months. Today President Lasso and his party find themselves politically isolated, shown most clearly by his near impeachment by the National Assembly, which was spearheaded by representatives of the Correaista movement, previous CREO coalition partners. On top of that, Ecuador was forced this year to declare a state of emergency due to spikes in violence across the country related to drug trafficking and foreign organized crime groups expanding operations across its borders. Official data shows the homicide rate nearly doubling between 2020 and 2021 and incomplete data for 2022 shows little indication of improvement.
Taken together, the civil unrest and security situation does little to portray Ecuador as a safe and attractive place for foreign companies to invest. Combined with the current political situation which sees much of the National Assembly not just uncooperative but actively seeking President Lasso's removal, there is little prospect of significant progress being made to pass legislation to address these intertwined economic and security issues. While fuel subsidies have stymied the most recent protests, the exhibited inability of the government in its current form to address the root causes of recent unrest makes future unrest and instability likely.
MIDDLE EAST AND NORTH AFRICA
Consecutive Acts of Femicide Trigger Anger Throughout the Region
Four separate murders of female students in the Middle East have triggered anger around the region. The four gender-based killings, or femicides, all occurred in the span of a few weeks and have gained a lot of attention on social media. The definition of femicide can vary depending on context but it is generally defined as "the intentional killing of women or girls because they are female."
Iman Rashid, a student at the Applied Sciences University in Amman, Jordan was shot and killed on campus. In Egypt, Naiyera Ashraf was beaten and stabbed to death in broad daylight outside of Mansoura University. Lubna Mansour, an engineering student, was stabbed to death by her husband in Sharjah, United Arab Emirates. Ariana Lashkari was shot and killed by her father at the age of 15. In three out of the four murders, the suspect was either a partner, parent or a man rejected by the victim. The motive of the fourth murder is unknown at this time. All four suspects are male.
A common denominator in many femicide cases is that the woman was the object of unreciprocated affection from a partner, former partner, or a man whose advances were rejected. Although violence against women is not explicitly a Middle Eastern problem, violence against women tends to affect low to lower-middle-class countries and regions. There is a common misconception that the abuse or murder of women in this region is carried out in the name of religion, but it is more of a reflection of a patriarchal society.
Violence against women and girls is systemic around the world. Reforms in the Middle East are limited, and women and girls continue to face violence and discrimination daily. Personal status laws have slowly been implemented throughout the region. These laws impact women's rights and can include the right of women to divorce men, the right to bring petitions against perpetrators of abuse, and can include the idea of marital rape being banned. Several countries in the region, including Gulf states, Morocco, Israel, and Tunisia, all have personal status laws of some kind.
Tunisia, for example, was once considered as being at the forefront of women's rights and equality in the Arab world for decades. After the revolution in 2011, the country continued adopting and amending constitutional laws impacting women's rights. A major success in the fight for gender equality in Tunisia was in 2017when Article 227 (a) of the Tunisian criminal code that allowed rapists to escape punishment if they married their victims was abolished.
It seems as if every success brings another defeat. Violence against women in the region is rising at an alarming rate. There are very few statistics that accurately represent gender-based violence in the region as a whole as many instances go unreported. The Egyptian Edraak Foundation for Development and Equality did, however, release a report earlier this year stating that Egypt had witnessed a "notable rise" in gender-based violence. There were 813 reported cases of violence against women and girls in 2021 compared to 415 reported cases in 2020.
Gender equality in the region is a challenging issue and is expected to remain so in the future. Throughout the Middle East, the prevailing prejudice and patriarchal attitudes of a male-dominated society threaten to undermine any prospect of new or amended legal rights for women and puts many lives at risk.
ASIA-PACIFIC
Taliban Struggle to Provide Aid to Afghanistan Post Earthquake
Afghanistan was rocked by a powerful 6.2 magnitude earthquake in late June. It was the deadliest earthquake to strike the country in two decades, killing at least 1,000 people, injuring 1,500, and destroying nearly 10,000 houses. The earthquake struck about 28.5 miles southwest of Khost, near the border with Pakistan. Witnesses reported feeling the tremors in both Afghanistan's capital, Kabul, and Pakistan's capital, Islamabad. The quake struck areas that were already suffering from heavy rainfall, causing mudslides and rockfall, wiping out villages in the mountains.
Afghanistan is prone to earthquakes, as it is located in a seismically active region, over a number of fault lines. Over the past decade, more than 7,000 people have been killed by earthquakes in the country. The recent disaster poses a serious logistical challenge for the government, which has isolated itself from most of the world and is facing a shortage in resources. Even before the Taliban took over, emergency response teams in Afghanistan were stretched thin, but now their response capabilities are further limited.
Almost half the country's population, about 20 million people, is experiencing food insecurity, according to a report backed by the United Nations in May. The situation spiraled further when the Taliban seized power in August of 2021, which led to the United States cutting off international funding to Afghanistan and freezing the nation's $7 billion in foreign reserves.
In the wake of the recent catastrophe, Haibatullah Akhunzada, the Taliban's Supreme Leader, has appealed to the international community and humanitarian organizations, to come forward and provide aid to the people affected by the earthquake. Many countries, like China, Pakistan, and Qatar have stepped in to provide relief materials for earthquake survivors. The UN has also released over $10 million in aid.
While humanitarian assistance is flowing in, aid needed for long-term development was discontinued by the US and its allies, when the Afghani government was toppled in August 2021. The Taliban has renewed its pleas for the US to release the $7 billion in frozen assets to provide humanitarian relief. Overstretched aid agencies have also prompted the international community to rethink its financial cut-off and sanctions on Afghanistan, which has plunged the country deeper into a humanitarian crisis and near famine.
SUB-SAHARAN AFRICA
M23 Causing Conflict in the Democratic Republic of Congo
A fight that began in May between military forces in the Democratic Republic of Congo (DRC) and the M23 rebel group, has escalated to a significant resurgence of M23 causing diplomatic tensions with neighboring Rwanda, which is believed to be supporting M23. The resurgence of M23 and their repeated attacks in eastern DRC has displaced tens of thousands of residents as they carry out their most sustained and effective offensive since their original insurgence of 2012 to 2013 and have achieved territory control on par with that period.
Following a decision by DRC and Ugandan officials to extend joint military operations in early June, M23 rebels continued attacks in eastern DRC and shelled military positions in North Kivu province. Increases in resources, weaponry, and the capability of M23 forces prompted allegations that M23 was receiving material support from the Rwandan government, accusations that leadership in Rwanda repeatedly denied. On 9 June, DRC military officials additionally accused Rwanda of sending 500 special forces troops across the border into North Kivu in disguise who later supported an M23 attack on a United Nations peacekeeping force. On 10 June, DRC and Rwanda accused each other of carrying out cross-border rocket attacks. The rocket strikes coincided with M23 rebel attacks that each military claimed to be engaged in at the time rockets hit their respective countries.
The tipping point of the rising tensions came on 13 June when M23 rebels captured the border town of Bunagana in North Kivu, causing more than 30,000 residents to flee the area, with many entering Uganda. DRC military representatives commented that Rwandan troops were occupying the town alongside M23. The Rwandan military denies all accusations.
The seizure of Bunagana was significant as it was a stronghold held by M23 during their 2012 insurgency, before being driven from it and retreating into Rwanda, in 2013, when their offensive in DRC ended. The seizure also further deteriorated the security situation, worsening diplomatic tensions and prompted African Union Commission Chair Moussa Faki Mahamat to call for hostilities to cease and for DRC and Rwanda to enter dialogue.
On June 15, DRC and other members of the seven-nation East African Community (EAC) agreed to begin processes for the deployment of a joint regional military force in the Ituri, North Kivu, and South Kivu provinces, to stabilize the security situation and combat rebel violence in the provinces.
A more recent assessment from a U.N. special envoy for DRC expressed concern for M23's increasingly more conventional military structure and approach to the escalating violence and their enhanced capabilities pose a potentially significant threat to U.N. peacekeeping forces in the region. As of this writing, both sides have agreed to settle diplomatic tensions and refocus efforts exclusively on eliminating the M23. The two countries are expected to revive a Congo-Rwanda commission on 12 July. Cooperation between both DRC and Rwanda is vital in order to address the continuous threat posed by M23 before the destabilization of the region intensifies.
EUROPE
A European Summer 
Summering in Europe is an age-old tradition, the summer season in Europe is often viewed from June through September. Since the COVID-19 pandemic nearly paralyzed the travel industry in 2020 Europe faced a major hit to its travel industry. The summer of 2022 began with most European countries lifting entry requirements for travelers. The combination of COVID-19 restrictions lifting and people coming out of a two-year travel hiatus has Europe expecting a major increase in tourism.
With the influx of travelers into Europe this summer, airlines have begun to feel the brunt and have had to react with major cancellations and strikes from their staff. Major airlines are cancelling flights, , some airports are capping the number of passengers, , and lower-cost carriers are reporting frequent delays.
There are some downfalls to having a major tourist industry, some places in Europe are beginning to see daily and long-term impacts of "overtourism." For example, Venice, Italy is experiencing major pressure on its sewage and recycling facilities, physical damage to its architecture, and a drastic decrease in local residents from overtourism. The local administration, La Serenissima, announced that Venice will limit the number of visitors to the city at the beginning of 2023. Beaches around Europe are also having to diminish their daily economic gain to combat overtourism. Two popular coves in Southern France, Sugiton and Pierres Tombees have begun to introduce capped days where people must book a pass online (for free) prior to entering. Access to the coves was limited to 400 people daily, a drastic shift from its usual summer population of 2,500 daily visitors. This is expected become increasingly common throughout Europe to balance economic gain and preservation.
Traveling in and around Europe, especially in the summer, carries some increased security risks as thieves recognize the influx of travelers and target them. To mitigate the risk of being the target for opportunistic crimes, it is recommended that travelers act confident, utilize maps prior to their journey, keep all purses and wallets well secured, and avoid wearing flashy jewelry. The accessibility and quality of public transportation throughout Europe make traveling incredibly easy, but it is also one of the most common places for theft. It is advised for travelers to sit with their belongings on their laps to help minimize their risk of theft.
Café culture, the act of sitting outside at a café for hours on end, is a common cultural activity throughout Europe. Thieves know this and could target any bags that are hung off chairs, under tables, or technology in plain sight. As Europe is likely to continue to be overwhelmed with travelers this summer, it is important to recognize all the above factors to navigate travel with as much ease and safety as possible.
For over 25 years, On Call International has provided fully-customized travel risk management and global assistance services protecting millions of travelers, their families, and their organizations. Contact us today and watch our video to learn more. You can also stay in touch with On Call's in-house risk management, travel health and security experts by signing up for our quarterly Travel Risk Management (TRM) newsletter.
The information provided to you within this report has been compiled from a multitude of available sources and is based on current news and analysis at the time of writing. The security team at On Call International, LLC has provided this analysis, supporting advice, and recommendations in good faith to assist you in mitigating risks that could arise. However, no implied or express warranty against risk, changes in circumstance, or other fluid and unforeseen events can be provided. By reading this report, you will agree that any reliance you place on this information is therefore strictly at your own risk and that you will not hold On Call International, LLC or the authors responsible for any inaccuracies, errors or oversights here-in. No part of this publication may be reproduced, stored in a retrieval system, or transmitted, in any form or by any means, electronic, mechanical, photocopying, or otherwise without the prior permission of On Call International, LLC.