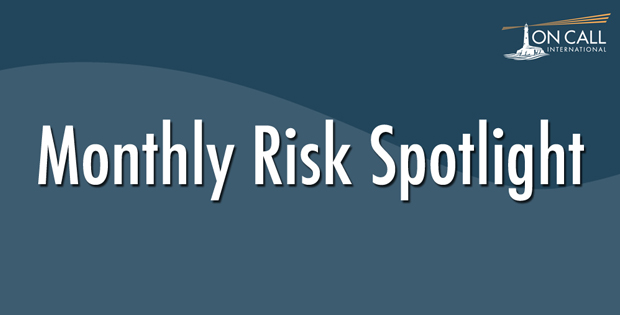 AMERICAS
Global Prices Spark Unrest in Peru
Peru is facing significant unrest as protesters have clashed with police and disrupted overland transit throughout much of country, including Lima and Ica, since late March. The story of how these protests were initiated and progressed is one of multiple chain reactions and exhibits how in a globalized economy crises in one region can rapidly instigate instability on the other side of the world.
Demonstrations began with joint strikes by the National Union of Transporters (UNT) and Confederation of Transporters of Peru (CTP) blockading major roads into urban centers on March 28 and 29. Blockades were established in response to increasing oil prices and at first, it appeared negotiations between the unions and government were set to resolve the strike. But blockades established by the trucker unions were rapidly joined by farming groups protesting increasing prices on fertilizer and the blockades have since persisted.
The blockades were designed to cut off transit in and out of urban centers including Lima, Ica, and Arequipa. One consequence of these blockades was to stymy the ability of foodstuffs to enter major cities, and during the week of March 28 to April 3 cities including Lima, Ica, and Arequipa saw the price of basic foodstuffs increase significantly. This increase took place in the context of already accelerating prices with annual inflation clocking in at 6.82%, the highest rate observed in Peru in 26 years. A number of factors contributed to establishing the inflationary trend this past year, including the COVID-19 pandemic and capital flight following the election of current liberal President Pedro Castillo in July 2021. However, the acute driver of increasing prices this past month, and subsequent ignitor for these protests, has been the Russian invasion of Ukraine. This invasion has resulted in aggressive sanctions being placed on Russian exports including fuel, fertilizer inputs, and wheat, significantly raising the price of these goods which Peru must import from the global market. These sanctions, when combined with already escalating inflation, have rapidly shrunk the average Peruvian's real income. The blockade of food transit into cities and subsequent rise in prices could be considered the final straw for a general population that has now taken to the streets, clashing with the police and looting grocery stores and government buildings.
The government has taken a variety of steps in response to the protests. In attempts to alleviate the economic burden on Peruvians, it has removed fuel taxes and sales taxes on basic foodstuffs as well as increased the minimum wage. It also declared a state of emergency for the national road system, deploying the military to attempt to prevent further blockades, and implemented a short-lived curfew in Lima on March 5 which went largely ignored as thousands took to the streets in defiance.
The conditions which enabled this unrest are unlikely to subside in the short term. The government has made attempts to ease its people's economic situation, but they so far have not been enough to get people off the streets. At the time of writing, six people have been reported killed in clashes related to the demonstrations. With the military deployed against blockades and at least an initial attempt to impose curfews in Lima made by the government, there is a real risk violence could spread and crackdowns on protesters escalate. Additionally, this unrest may take on a political nature. For a country that has seen multiple leaders toppled by popular unrest this past decade (this President has already survived two impeachment attempts in his first year), it is probable that current demands of President Castillo's opponents for his ousting will be joined by greater swaths of the population. The only true certainty is that in a globalized world, the Russian invasion of Ukraine will have far-reaching consequences across the world if it persists.
MIDDLE EAST AND NORTH AFRICA
A Small Step Backwards for Women's Equality in Iran
Organizers of the FIFA World Cup qualifier game at the Imam Reza Stadium in northeast Iran allowed spectators, regardless of gender, to purchase tickets days leading up to the event. As the gates opened on game day, however, two thousand women were denied entry into the stadium to watch the national team's qualifying game against Lebanon, despite having purchased tickets. The entry ban led to hundreds of women staging a protest outside the stadium. Social media footage shows the women chanting peacefully and shortly after, security forces responded with pepper spray at close range and batons to disperse the women resulting in several injuries.
FIFA later released a statement saying it "has heard with concerns reports that women were not allowed at the match yesterday and is asking the Iranian Football Federation for more information on this matter." Iranian President Ebrahim Raisi also responded by instructing the interior ministry to look into the incident. In January, women were allowed to attend a World Cup qualifier against Iraq.
Iranian women had been banned from stadiums hosting men's soccer games for 40 years. Prior to the Islamic Revolution in 1979, this law didn't exist. Hardliners believe women must be protected from the "vulgar atmosphere". Over the last decade, some women in Iran have resorted to disguising themselves as men by wearing wigs and fake facial hair to gain entry to soccer stadiums. In 2019, a woman named Sahar Khodayari tried to enter the Azadi Stadium disguised as a man but was arrested and charged with appearing in public without a hijab. Shortly after her arrest, Khodayari set herself on fire in front of the courthouse and died seven days later.
After facing FIFA's pressure from the fallout of Khodayari's death, Iran announced women would be allowed entry to soccer stadiums without restriction. Activists saw this change as a small step toward equality that was lost after the revolution. Despite the 2019 decision, observers believe only a handful of women have been allowed to attend Iranian national team games in Iran. Many believe the small number of women selected by authorities to attend the games was just to reduce international pressure.
This latest incident has caused widespread outrage, and some now demand Iran be banned from the 2022 FIFA World Cup starting in November. The United for Navid organization, a group of exiled Iranian activists and athletes says Iran should be suspended from all international soccer games until it changes its stance on banning women. Human Rights Watch also urges FIFA to demand Iran overturn its stadium ban on women and ensure accountability. FIFA's statute of discrimination states that discrimination based on gender is "strictly forbidden." As support for banning Iran from the World Cup grows, FIFA has yet to make any definitive decision on Iran's World Cup fate.
ASIA-PACIFIC
Taiwan's Silicone Shield
Russia's invasion of Ukraine has caused many to speculate whether China will soon attempt an invasion of Taiwan. While Taiwan has not observed any unusual Chinese military activity since the conflict in Ukraine began, China has increased military aggression over the past two years with the constant routing of fighter jets close to the island's shoreline. China's President Xi Jinping has used increasingly aggressive language when speaking about Taiwanese independence. Taiwan and Ukraine are both young nations whose independence is threatened by neighboring global superpowers. While the situation in Taiwan shares many similarities with Ukraine, there are several key differences.
Since Taiwan is an island and does not share a land border with China, a military force capable of a full-scale invasion would have to be carried across the Taiwan Strait, a minimum of 80 miles. Taiwan maintains several military facilities on the Penghu island chain that are equipped with anti-ship and anti-aircraft missiles capable of inflicting significant damage to a Chinese invasion group. China would have to launch a sizable amphibious assault to capture these islands prior to invading the main island, which would alert Taiwan that an invasion is underway.
While China's military significantly outnumbers Taiwan's, it would still struggle to capture the entire island. A successful invasion would depend on the capture of strategic ports and airfields. These locations are well defended and intense battles to secure these locations could result in them being destroyed. Taiwan also maintains military facilities that were built under mountains linked by tunnels and wired communication systems and designed to shelter thousands of military personnel. The Taiwanese Air Force can take off and land in specially designed tunnels that have been carved into the mountainsides.
Aside from the multiple obstacles China would have to overcome to invade Taiwan, the island holds a wild card that may deter China from conducting an invasion known as the "silicone shield". Taiwan produces approximately 92 percent of the world's semiconductors; microchips that power advanced technology like smartphones and satellites. A disruption to the Taiwanese supply chain would cost tech companies billions of dollars, including Chinese tech companies. It would also disrupt China's technological ambitions in artificial intelligence and 6g cellular technology, which is a major focal point in President Xi's five-year plan. China has been working to become independent of its need for Taiwan-produced semiconductors. They have been unsuccessful in producing the same level of quality so far, and have repeatedly been accused of talent poaching and intellectual property theft to steal Taiwanese semiconductor tech. Many experts in the technology field assess that China's semiconductor capabilities are approximately 10 years behind Taiwan, and the gap is likely to widen with time. The manufacturing facilities that produce semiconductors could be destroyed during an invasion, either accidentally by Chinese invading forces, or intentionally by the Taiwanese military.
While Russia's invasion of Ukraine demonstrated that military aggression is unpredictable, China would face unique challenges in the attempt to invade Taiwan. From the logistics of moving personnel and equipment to fighting an advanced force that has trained and prepared for this scenario, to the potential risk of destroying an industry that China relies on.
SUB-SAHARAN AFRICA
Horn of Africa Faces Food Insecurity Due to War in Ukraine
With Russia's war in Ukraine drawing into its second month, millions of people in the Horn of Africa face severe food insecurity. Around 14 million people in Somalia, Kenya, and Ethiopia are already in urgent need of humanitarian aid, due to an ongoing drought. Below-average rainfall in the region has created some of the driest conditions in decades, destroying livelihoods and forcing families to leave their homes in search of water and food.  In Ethiopia, the ongoing drought and internal conflict have led to millions of people migrating to the capital Addis Ababa, causing strain on the city's limited resources.
Now, Russia's invasion of Ukraine has intensified the resource shortage by driving up prices of wheat exports, fuel, and fertilizer. The two countries account for about a quarter of the world's wheat exports and are some of East Africa's top suppliers, making up about 90% of their wheat imports. Since the invasion, wheat prices have risen 80% and are expected to go up even further.
In Sudan, the price of bread has nearly doubled. In Somalia, the cost of 25 kilograms of beans has increased from $18 to $28, while the price of a 20-liter container of cooking oil has increased from $32 to almost $55. Fuel shortages in Kenya, due to the war, have also skyrocketed, causing protests throughout the country.
As the holy month of Ramadan approaches, rising costs of food and supplies squeeze household budgets. Many families have to rely on food donations and aid programs to survive. However, these programs are being stretched thin, as this war has affected the operations of the World Food Program. Due to rising prices and limited funds, aid programs have had to reduce rations and cut back on the number of people being given aid.
In a statement last week, the president of the African Development Bank (AfDB), Akinwumi Adesina, claimed that the AfDB is working on a $1 billion emergency food production plan to curb further food shortages and bring down inflation. This project will help feed over 200 million Africans and help them become more self-sufficient in food production in the long run. While these initiatives are welcome, it is imperative that donors get involved immediately to help East Africa and deter a wider crisis.
EUROPE
Ukraine Exodus
By the end of March over four million people have left Ukraine due to the unjust and unprovoked Russian invasion, while another 6.5 million are expected to be stranded inside the war-torn country. The European Union has reacted to this mass influx of people by issuing a blanket right for Ukrainians fleeing war to stay and work throughout its 27 member nations for up to three years. This also includes social welfare, access to housing, medical treatment, and schools. Most of the current international aid money is being directed towards the Ukrainian war effort, along with most of the political focus, therefore security for refugees and stability in host countries is far from guaranteed.
Poland maintains the largest land border with Ukraine and has taken in 2,336,799 refugees, the highest Ukrainian refugee influx in any country. The Polish government has reported that it will need more money than the EU is currently offering. To increase housing opportunities for Ukrainian refugees, the Polish Government is offering citizens 40 zlotych($9) per day to host a refugee for two months. Moldova has taken in 387,151 refugees and has by far the largest concentration of refugees per capita. Moldova, which is not a part of the EU has appealed for international aid alongside reports of a national struggle. Romania has taken in 608,936 refugees, Hungary 364,804, and Slovakia has taken in 281,172 throughout March. Russia and Belarus have also both taken in refugees. Approximately 350,632 people have fled to Russia and 10,902 to Belarus.
A refugee crisis often results in economic burdens for host nations but there is a chance that the Ukrainian refugee crisis may give European nations an economic boost. In the last year, the unemployment rate in the Eurozone dropped to a record low of 7%, this sets up a system for refugees to obtain jobs and boost communities and economies. This is, however, a positive forecast assuming economies will not falter from ongoing war-related spending, especially a surge in energy prices linked to sanctions on Russia. Many countries have a plethora of work opportunities, such as Germany, which limits the risk of citizens accusing refugees of taking their jobs which often leads to aggression and discrimination.
Aggression towards Ukrainian refugees has begun in some areas of Romania and Moldova as reports of verbal abuse and vandalism of Ukrainian belongings have begun to surface. Similar reactions to Ukrainian refugees may increase and spread if negative political, social, and economic related effects begin to populate Europe. As of the end of March, the majority of Europe has welcomed refugees with open arms with direct land borders remaining open to those fleeing the war, and members of the international community continuing to provide funds to host nations. As the war in Ukraine continues, so does the refugee crisis and it is unluckily to improve for many months or years, regardless of the conflict de-escalating.
For over 25 years, On Call International has provided fully-customized travel risk management and global assistance services protecting millions of travelers, their families, and their organizations. Contact us today and watch our video to learn more. You can also stay in touch with On Call's in-house risk management, travel health and security experts by signing up for our quarterly Travel Risk Management (TRM) newsletter.
The information provided to you within this report has been compiled from a multitude of available sources and is based on current news and analysis at the time of writing. The security team at On Call International, LLC has provided this analysis, supporting advice, and recommendations in good faith to assist you in mitigating risks that could arise. However, no implied or express warranty against risk, changes in circumstance, or other fluid and unforeseen events can be provided. By reading this report, you will agree that any reliance you place on this information is therefore strictly at your own risk and that you will not hold On Call International, LLC or the authors responsible for any inaccuracies, errors or oversights here-in. No part of this publication may be reproduced, stored in a retrieval system, or transmitted, in any form or by any means, electronic, mechanical, photocopying, or otherwise without the prior permission of On Call International, LLC.