Attitudes towards LGBT travelers around the world can be very different from those in the United States. And while most LGBT travelers won't encounter any problems abroad, the better prepared you are, the less likely you are to run into any issues. We hope the following information will help you plan for your next international trip.
Research Your Destination Thoroughly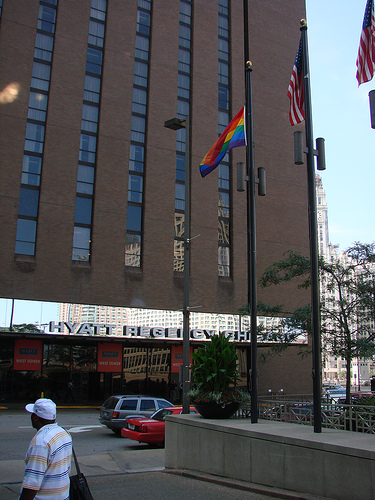 It is extremely important to get to know your destination, including its local laws and customs, before you leave. There are a few things to consider—first, a same-sex relationship may be lawful in a country, but local society can be intolerant when those relationships are open. Second, while plenty of countries that provide legal protections to the LGBT community, there are also several countries that do not, so it's important to choose your international destinations with care.
Did you know?
A membership with On Call International gives you access to 24/7 worldwide legal assistance services whenever you're more than 50 miles from home. Members also have access to language translation services, which could also come in handy during a legal situation (for instance, if you need help communicating with local authorities if they don't speak English).
Check out the world map on the homepage of the International Lesbian, Gay, Bisexual, Trans and Intersex Association's website. Right above the map, there is a drop-down with different themed questions—for example, if you select "punishments for male to male relationships," it will visually display which countries meet this criteria. In addition to this, the Special Circumstances sections on the U.S. State Department's Country Specific Information pages  contain information about local attitudes, harassment and arrests relating to LGBT travelers; their annual Human Rights Report  also has a section about sexual orientation and gender identity in each country.
Additional Resources: Travel agents and tour operators who specialize in LGBT travel will often have in-depth knowledge about various locales—the International Gay & Lesbian Travel Association (ILGTA)  gives you the ability to search LGBT-related tourism business partners, events and specials. Online sites like Frommers and Lonely Planet  (we love their forums and online communities!) can also be a wealth of information and niche sites like GlobalGayz  offers stories, reports and photo galleries for more than 190 countries about LGBT travel, culture, human rights, religion, psychology and more. The information on this site is based on actual visits to these countries.
Get Your Documents in Order
The U.S. Department of State urges LGBT travelers to check with their destination country's U.S. Embassy or Consulate  to learn about any special documentation requirements before you leave. They also recommend carrying documents regarding parentage and/or custody for accompanying minor children.
If you're recently married and have a name change, see the Passport Services' change of name documentation requirements.  If you are in the process of or have completed a gender reassignment, you'll need to carefully review the Identification Requirements for Gender Reassignment Applicants here.
Line up Your Emergency Resources
While On Call members can call us if they run into any issues, the American Citizens Services (ACS) section of the U.S. Embassy or Consulate can also help—this is especially important if you don't feel comfortable approaching local authorities. Consular officers will not only protect your privacy, but won't make assumptions or pass judgment. Make sure to program the contact information for the U.S. Embassies or Consulates in the countries you're visiting into your mobile phone.
You should also enroll in the State Department's Smart Traveler Enrollment Program and download their Smart Traveler App to have timely emergency information at your fingertips. It only takes a few minutes to fill out the online form, and you'll not only automatically receive updates on travel warnings and travel alerts via email, but the information you enter (including your emergency contacts) can help the nearest Embassy or Consulate locate you in the event of an emergency. When enrolling in STEP, be sure to include an email address or phone number where you can be reached while traveling.
Now that your trip is planned and you're ready to go, consider these additional precautions from the U.S. State Department once you arrive at your destination:
Be a responsible tourist—don't do anything that you wouldn't do at home!
Avoid excessive physical displays of affection in public, particularly in more conservative countries or regions.
If you intend to visit Internet chat rooms or other meeting places, find out about the local situation before you do—police in some countries monitor such sites and locales with the intention of carrying out entrapment campaigns.
Be wary of new-found "friends"—criminals sometimes will exploit open and relaxed LGBT tourists.
If you receive unwelcome attention, just proceed and ignore. Don't start a fight.
Some resorts or LGBT neighborhoods can be quite segregated.  Be aware that local residents may not approve of expressions of sexuality when you are in surrounding areas.
Exercise even more discretion in rural areas.
Some hotels, especially in rural areas, won't accept bookings from same-sex couples.  It's best to check before you go.
Safe Travels!
Photo Credits
Pride flag from Jere Keys