You're having breakfast at a café in France.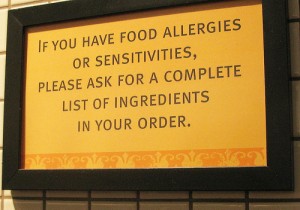 When ordering crepes you tell the waiter you're allergic to hazelnuts and he assures you that the topping is hazelnut-free. Turns out, the waiter was wrong — thankfully the Benadryl you packed did the trick, but what if the reaction had turned into something more serious? If this sounds familiar (or like one of your biggest fears), you're probably one of the millions of Americans who've had allergic reactions to food — but this doesn't mean you can't travel! Yes, traveling in foreign countries with food allergies can be a little tricky, but with some planning and preparation, your trip can be healthy and hassle-free. Here's how:
See Your Doctor: Six to eight weeks before you leave, schedule a check-up with your doctor to talk about any necessary adjustments to your treatment plan while you're away, including when to take an antihistamine and when to use your epinephrine injection in case of an emergency.  Ask him/her to help you with your Food Allergy Emergency Care Plan (which you should keep with you at all times) and to write a letter that confirms your food allergies and medications to help prevent confusion at security checkpoints.  Make sure you have all the medicines you need for the duration of the trip and a for a few extra days in case of unexpected travel delays. And while you should ask your doctor for an extra prescription in the event you lose or run out of your medication, keep in mind that getting a prescription on foreign soil isn't always as simple as it sounds. Learn how to fill a prescription abroad with the help of your travel assistance company here.
Also, depending on where you're headed, your doctor may refer you to a travel medicine specialist to verify any destination-specific vaccines that you'll need. Make sure these vaccines are administered at least a month before you leave — that way, if you have any adverse reactions, you'll have time to recover before your trip.
Pack Your Medication with Care: We can't stress this enough — don't pack your medications (especially your epinephrine, which is the only treatment for anaphylaxis!) in your checked luggage. Checked baggage can be exposed to extreme heat or cold that could spoil medications and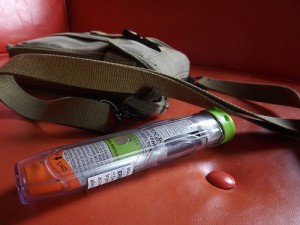 if your luggage goes missing, you'd be in a serious predicament. As long as your medication is in its original packaging and it's clearly labeled, you shouldn't have any issues with airport security. If you're carrying more than 3.4 ounces of liquid medication, keep it separate and declare it to a TSA agent upon entering the security line. Another helpful hint: request that your epinephrine be inspected visually rather than x-rayed since the effects of x-rays on epinephrine are unknown.
And don't forget your medical ID bracelet! It not only makes getting through airport security easier, but in the event of a severe medical emergency, it can provide critical information about your health status to emergency medical personnel (they are trained to look for a medical ID when they are caring for someone who can't speak for themselves).
Fly Allergy-Free: Research airlines well in advance as some are more accommodating than others when it comes to food allergies. More specifically, ask the airline about their policies and services. Do they serve snacks that contain ingredients you're allergic to? Can you board early or get a seat by yourself? Is emergency medical help available? While airlines can't always guarantee flights that will be free of your trigger foods, they may ask passengers in your row, and in the rows around you, to refrain from eating them. However, if you suffer from a peanut allergy, take extreme caution — some airlines will guarantee a peanut-free flight or buffer zone, but the recirculated air can pose a threat. Most airlines are happy to provide special meals and snacks (vegetarian, vegan, kosher, gluten-free … you name it!) so don't forget to request them at least 24 hours before your flight. We also recommend packing an emergency food stash just in case something goes wrong — for example, if your flight is cancelled and you're placed on a different  flight, your special meal is not going to follow you to your new flight (allergy-friendly manufacturers like Enjoy Life, Glutino, and Vermont Nut-Free sell great snacks!).
Pick Hotels Wisely: Try to book your accommodations close to a local market or grocery store. Food shopping is not only a great way to experience the local culture, but if all else fails, you'll be able to buy your own safe food staples. Don't know the language? Use Google Translator to decode ingredients on food labels or ask the store clerk for help if they appear fluent in English. Be sure to request an empty fridge for your room so you can have access to your perishable safe foods at all times. You may also feel more comfortable if you're able to cook your own food while you're away. If this is the case, see if you can reserve a room with access to kitchen facilities, such as a microwave or small stove, so you can have full control over what you eat.
Carry Your Cards:  Selecting safe foods in your home country is easy, but navigating a foreign menu can be a minefield of unexpected ingredients. Consider carrying a chef card  in the local language that explains which foods you can't eat. Show this to your server AND the chef at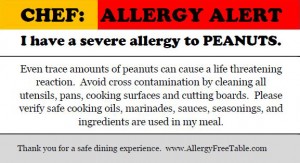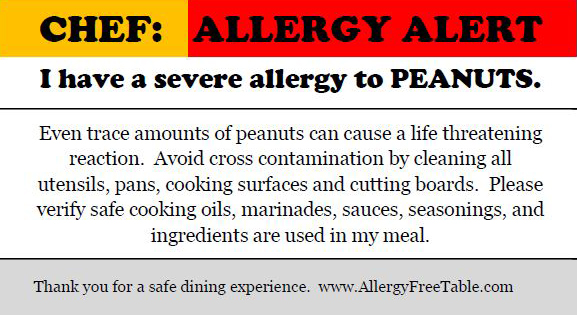 any restaurant you visit. You can also research regional cuisines in order to get an idea of the dishes you'll want to avoid. For example if you're traveling to Thailand, crushed peanuts can sneak their way into everything from Pad Thai to soup garnish, and in France, you'll have a tough time avoiding dairy. Learn how to say "I'm allergic to ___" in the local language (along with some other key phrases, which you can find here!). Depending on your specific allergy, you may be able to look online to find allergy-friendly resources in your destination. Sites like GlutenFreeTravelSite.com have a handy search tool that enables you to search reviews of restaurants, grocery stores, hotels, resorts and even cruise ships that accommodate celiac sufferers in any area of the world. We also suggest searching TripAdvisor's forums to find advice from other travelers with the same food allergies or even start your own discussion for more tailored advice.
Prepare for an Emergency:  Even if you take the proper health steps, travel emergencies can (and do) happen. This is why a travel assistance membership is a great supplement to your travel insurance plan. If you happen to get sick, you'll get assistance locating a qualified allergist, hospital or pharmacy. If you lose or run out of your prescription, there's replacement assistance too. In the event of a serious illness or injury, you'll receive emergency medical evacuation, which includes the planning and cost of transporting you home to your preferred doctor. A travel assistance membership also can assist you 24/7 with other travel mishaps ranging from lost passports, missing baggage, legal assistance, and rescheduling travel plans if flights are cancelled or postponed.
Have you mastered the art of traveling abroad with allergies? We'd love it if you could share your tricks of the trade in the comments below!
Safe Travels!
Photo credits
Food sign from miheco
Epipen from Vu Nguyen
Chef card from Allergy Free Table