Taking to the road to explore neighbor to the south? Driving around Mexico offers great opportunities to see the sights off the beaten path. With the right precautions, you'll be set for an amazing adventure. Here are some tips to help make your trip safer:
*Always purchase insurance. If you're involved in an automobile accident in Mexico, as in many Latin American countries, you are considered guilty until proven innocent. Liability insurance generally isn't very expensive and can make a world of difference if something happens.  However, make sure you purchase coverage underwritten by a Mexican carrier, as local authorities will not accept any other coverage.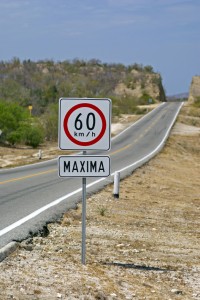 *Follow the speed limit. If you're driving your own car instead of renting one after arrival, be sure to adjust your speedometer to kilometers instead of miles. Don't have that option on your car? Convert miles per hour to kilometers per hour by multiplying mph by 1.61. For example, if you're traveling at 60 mph, 60 x 1.61 = 96.6 kph. Another reason you'll want to keep an eye on speed? Livestock, which can frequently amble onto the road and then stop, causing you delays or sudden halts. Speeding means you'll be less likely to come to a stop safely, before any damage causes harm to you, your car, or the unwitting cow/pig/goat/chicken.
*Research the rules of the road.
Here are just a few:
•    Yellow lights are a signal to stop, not just to slow down.
•   Don't take a right on red.
•    Use the "fast lane" for passing only.
•    Watch out for Mexican speed bumps ("topes"), which often aren't marked.
•    If you're rear-ended, you're considered at fault.
•    Toll roads are general safer than the free roads.
•    When in doubt of traffic flow, it's safer to yield.
•    Don't forget to keep an eye out for pedestrians, bicycles, hand carts, etc, especially when in the city.
*Expect military stops. Mexico is trying to clamp down on drug transportation. Cooperate, and you'll be on your way fairly quickly. Typically, delays are only a few minutes, but do understand your car may be searched.
*Know how to get help. In addition to your On Call membership card, make sure you have a list of emergency resources handy. This includes your roadside assistance contact (if valid outside the U.S.), local emergency services for the area you're traveling in, as well as the police. You may also want to remember the Mexican government's "Angeles Verdes" or "Green Angels" program. The operators of these green trucks can help with things like flat tires, gasoline and even minor first aid. They don't charge for services, but you will need to pay for any parts or gas. The Green Angels can be reached for assistance by dialing 078.
*Understand the law. Be sure to familiarize yourself with general traffic laws, as well as what happens in case of an accident. If you get a traffic ticket, you can ask for a ticket that can be paid at the police station or my mail. If you think an officer is trying to get a bribe from you, ask to be taken to the jefe (chief). It is best to pay fines at the local police station. Several Latin American countries, including Mexico, can and will detain tourists involved in auto accidents in which someone is injured, even if the tourist is not at fault. If you are jailed, get help immediately, and make sure your lawyer knows about any applicable prisoner transfer agreement. A travel assistance plan with legal assistance can be a lifesaver.
*Be responsible. It goes without saying – never drive when over-tired or when intoxicated. Avoid driving at night, unless necessary. Most accidents in Mexico occur at night, when things like livestock and debris aren't as visible on the road. If you choose to drive at night, be very aware of your surroundings.
If you'd like more tips, plus inspiration on places to visit during your road trip, check out "How to Have a Mexican Road Trip" and other posts about Mexico by our friends at Trans-Americas Journey. They've been on a multi-year road trip through Mexico and Latin/South America, showcasing amazing places!
Have you driven in Mexico? Share your own tips in the comments below!