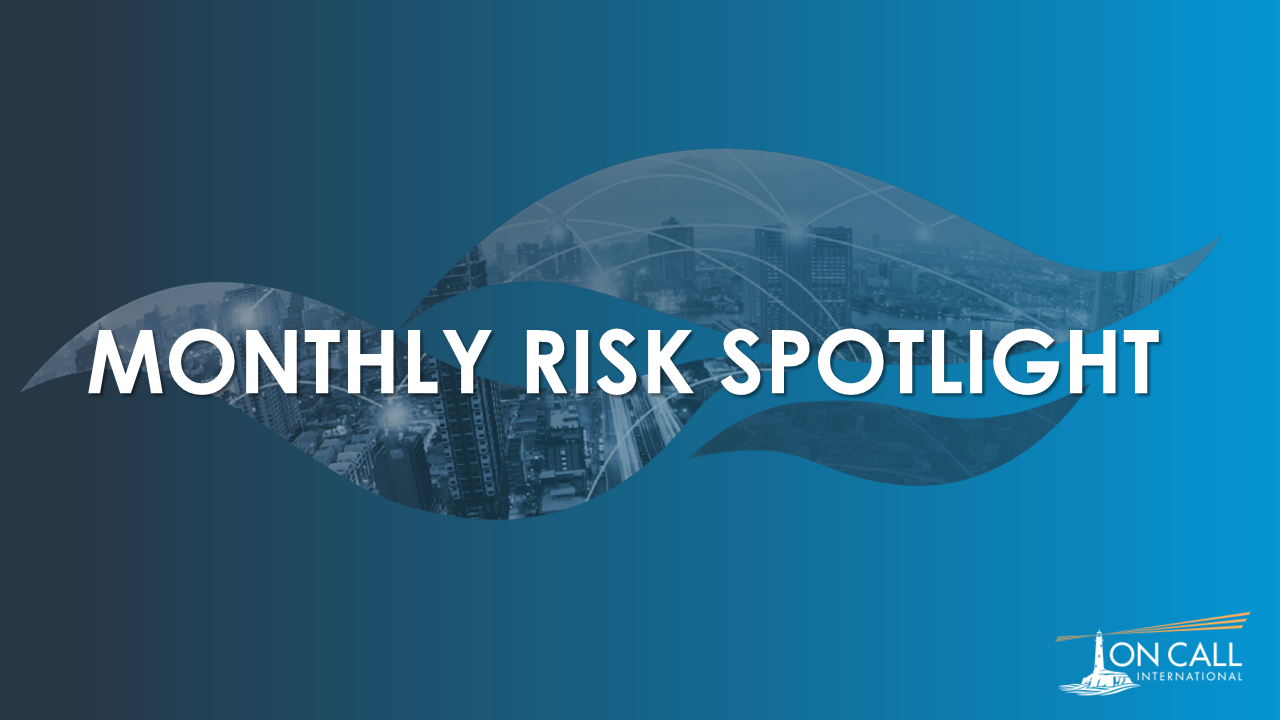 AMERICAS
Haiti's Crisis: A Humanitarian Disaster in the Western Hemisphere
In a country where elected officials are not elected, the police are ineffective and outgunned, and the ports and major highways are controlled by gangs with more influence and power than the central government, it is hard to imagine what a more cliche Hollywood dramatized version of a failed government should look like. However, for the 11.5 million people of Haiti, the realities of the multiple failures in Haiti are convincing people to take up vigilante justice.
The roots of Haiti's problems are complex. The country has a long history of political and economic instability dating back to the foundation of the nation after the only successful slave revolt in history created the second independent state in the Americas. However, a price for freedom came in the form of huge indemnity payments that have mostly impoverished the nation since its foundation. Fast forward to 2010, when a devastating earthquake killed over 200,000 people and left millions of Haitians homeless. Still not fully recovered from the earthquake, in 2021, the assassination of President Jovenel Moïse further threw the nation into crisis. Government functions ceased, officials abandoned jobs and responsibilities, and elections were canceled. Since January 2023, there have been no elected officials in the nation.
With the political and economic instability, gangs have emerged and taken control of large parts of the country. Gangs control the major roads into the capital, Port-au-Prince, extorting merchants and even farmers who wish to enter the capital to sell their crops. As a result, an estimated half of the population of Haiti is undernourished. Gangs have also participated in kidnappings as a source of income, leading to over a thousand kidnappings of foreign nationals or wealthy Haitians. As a result, a mass exodus of international air workers and foreign government officials has left Haiti, leaving the country with even fewer resources to combat poverty. The overall levels of violence in Haiti have made it difficult to provide basic services such as healthcare and education, with people dying needless deaths and children, who should be in school, turning towards gangs as a means of survival.
The international community has been slow to respond to the Haitian crisis. Calls for the United States and/or Canada to lead an international peacekeeping force to stabilize Haiti have been made, but both nations are reluctant to intervene. There is a long history of American and Canadian intervention in Haiti that has historically shown little result. Intervention may even destabilize the situation, making life even worse for Haitians. With no foreign help on the horizon, Haitian civilians are starting to take matters into their own hands.
As instability has grown, one worrying trend has been the rise of vigilantism. Citizens have formed community groups armed with machetes and have purposefully targeted suspected gang members. In April, mobs of Haitian vigilantes were reported to have taken at least 18 suspected gang members from police custody and executed them on the streets of Port-au-Prince. The bodies of the victims were dismembered and set on fire, a reminder that vigilante justice is no justice at all, but a mindless violent response to extreme insecurity.
The future of Haiti is uncertain. The country is facing several challenges, and it is not clear how it will overcome them. The government is weak and corrupt, the gangs are powerful and violent, and the international community has been slow to respond. The situation in Haiti is dire, and it is not clear how the country will recover.
MIDDLE EAST AND NORTH AFRICA
Lions' Den and the New Palestinian Resistance
Lions' Den, an armed Palestinian group centered in the West Bank city of Nablus, emerged in the Fall of 2022. The group has gained notoriety in recent months for attacks on Israeli soldiers, checkpoints, and settlements and is seen by many as the new Palestinian resistance. The group's first official appearance was on September 1, 2022, during a memorial service for two of its members who were killed by Israeli forces. Later that day, Lions' Den released its mission, saying they will continue to target Israeli forces and settlers as they are focused on fighting the Israeli occupation.
The group largely consists of young men in their early twenties, most of whom have connections to one of the four main traditional Palestinian parties: Hamas, Fatah, Islamic Jihad, and the Popular Front for the Liberation of Palestine. The group emphasizes that they do not belong to any of the traditional Palestinian parties, nor do they take orders from the parties. The overwhelming majority of Palestinians support Lions' Den, with the governor of Nablus quoted as saying "We like them, yes. We support them, yes. We have to say to them, 'That's enough.'"
While holding majority support, the group also relies on intimidation tactics amongst the local population. Last month, Lions' Den executed a Palestinian man they accused of spying on behalf of Israel. Zuhair Relit was suspected of providing information on members and commanders of the group and cooperating with Israeli security agencies. The group also accused Relit of being an accomplice in the assassination of the group's two founding members. Relit was recorded on camera admitting his cooperation with Israeli security agencies shortly before being killed. The execution was certainly used as an intimidation tactic to dissuade other Palestinians in Nablus from working with or for Israel.
In response to the rising threat that militant groups pose to Israeli interests, the Israeli Defense Forces (IDF), launched Operation 'Break the Wave.' The counterterrorism operation's goal is to thwart future attacks on Israel, including its security forces, citizens, and infrastructure, and to apprehend individuals involved in terrorist activity. The operation is ongoing, and since its launch in 2022, the IDF reports hundreds of future attacks have been prevented.
While Operation 'Break the Wave' is seen as successful in the eyes of Israeli officials, the threat of militant violence remains. In addition to offensive attacks on Israeli forces, Lions' Den also responds to the killings of Palestinians with brute force. As Israeli raids in Nablus increase, so do the threats to Israeli interests posed by Lions' Den. Both Israel and the Palestinian Authority (PA) are worried about widespread resistance in the West Bank and the continuing violence perpetrated by militant groups. Israeli officials continue to underestimate Lions' Den's power, yet they have no clear idea of the groups influence or their future impact. Given time and increasing influence, the group may have the potential to spark a new, real, Palestinian resistance.
ASIA-PACIFIC
Singapore's Struggle with Capital Punishment
Towards the end of April, a man in Singapore was executed for allegedly smuggling 2 lbs (1 kg) of cannabis to the island nation. Tangaraju Suppiah was sentenced to death in 2018, and hanged on April 26, 2023, despite pleas for clemency from his family and human rights activists.
Though cannabis has been legalized in a growing number of nations, Singapore maintains some of the harshest drug laws. The island nation's government also remains adamant that capital punishment is an efficient method to deter drug traffickers and must remain in place to maintain public safety. According to Amnesty International, Singapore is one of four known countries to still execute people for drug-related crimes.
Under Singapore law, trafficking more than 500 grams of cannabis or other drugs like heroin, cocaine, and methamphetamine can result in the death penalty. The island nation's use of the death penalty is in contrast with its neighbors. Earlier this month, Malaysia, Singapore's closest neighbor, passed a multitude of legal reforms to remove the death penalty and cut down the number of offenses, including drug-related crimes, punishable by death. Additionally, last year, Thailand became one of the first countries to decriminalize cannabis in Asia.
Though Tangaraju was not caught with cannabis, prosecutors claimed his phone number was traced and matched with the person responsible for coordinating the delivery of the drugs. The recent execution has resulted in international backlash, with many states and actors claiming that Tangaraju's punishment was in violation of international law standards. Critics claim that Singapore has fallen far behind its neighbors and is out of touch with the basic concept of human rights. The European Union's delegation to Singapore also called on authorities to halt the execution.
Despite the backlash and criticism, Singapore's government continues to resist calls for reforms. Last year alone, the island carried out 11 executions, all related to drug trafficking offenses. The number of executions in Singapore has dropped substantially since the 1990s, however, they restarted with a renewed vigor in 2022 after a two-year hiatus due to the global pandemic. Singapore's position on executions has held despite a worldwide trend away from capital punishment.
It is difficult to challenge any official narrative in Singapore as the country's media is highly restricted in what and how they can report. Demonstrations and protests are only allowed at a designated area in one park. Universities in Singapore are world-renowned but academic freedom is limited. The island does not fall short of China when it comes to suppressing press freedom. Due to this suppression and tight control of information, the prospect of reform or reprieve for those convicted of drug charges in Singapore seems quite distant.
SUB-SAHARAN AFRICA
RSF and Sudanese Armed Forces Fight for Control
As fighting in Khartoum broke out in the early morning hours of April 15th, thousands of people found themselves waking up to the sounds of gunfire and air strikes. The Rapid Support Forces (RSF) and the Sudanese Army began fighting at a military base which rapidly spread to the Presidential Palace and Khartoum International Airport along with other areas throughout the city. Days prior, on April 13th, there were reports of the RSF moving vehicles to the military airport in Merowe. This led the army to raise alarm saying that the RSF was conducting a mobilization without approval or coordination with the army. The fighting has continued, leaving hundreds of people dead, thousands injured, and fighting is likely to continue into the foreseeable future.
The RSF is a paramilitary group that for years in Sudan has operated under its own rules and own command but participated in helping stage a coup in 2021. The relationship between the RSF and Sudanese military has been deteriorating resulting in the delayed signing of an agreement to transition back to civilian rule. Under the internationally backed plan for Sudan to transition to civilian rule, it included the agreement that the RSF would integrate into the Sudanese Armed Forces. However, both sides had yet to agree on who would lead during the transition. Current president and head of the army, General Abdel Fattah al-Burhan stated that the army would continue to lead while the head of the RSF, wanted it to be civilian led. While the RSF initially stated that it did not want any confrontation with the Sudanese Armed Forces, fighting quickly escalated on April 15th.
As of April 28th, the United Nations had reported an estimated 512 people have died with 4,200 people injured. The hospitals in Sudan have deteriorated rapidly as the fighting rages on. Many of the hospitals throughout Khartoum closed leaving only a few open throughout the city. Despite some hospitals being open it has been unsafe for many people to travel to the hospitals. Additionally, hospitals have reported running out of medical supplies, food, and clean water leaving many with no choice but to provide patients with at-home instructions and sending them home. The Doctors Union has reported that the healthcare system in Sudan is on the verge of collapse.
Fighting has been heavy around Khartoum, Bahri, and Omdurman. As the fighting has intensified, leaving it unsafe for people to leave their homes, the humanitarian situation throughout Sudan has worsened. Many people are running low on basic necessities such as food, water, and medication. There have been reports of some markets increasing their prices while others are providing free food and supplies. There has been widespread looting as well. Over the last couple of weeks, internet services have gone down several times which has increasingly made communication and evacuation efforts more difficult.
Since fighting began the international community has been calling on the RSF and the army to stop the fighting and hold talks. The army has repeatedly said negotiations will not be possible until the RSF is "dissolved." Within the first two weeks, several ceasefires were agreed upon but fighting continued. Each side continuously blames the other for not following the agreed upon ceasefire and reigniting the conflict. On April 27, the army and RSF had agreed to extend the ceasefire by an additional 72 hours to allow countries to finish evacuating citizens, but heavy fighting was heard throughout Khartoum and surrounding areas on April 28th.
The US, Britain, France, Germany, and other countries all evacuated their embassy staff and over the last week have worked to evacuate citizens. Overland travel from Khartoum to Port Sudan has become a popular route for evacuations along with evacuations going from Khartoum to Egypt. There have been reports of convoys being looted and robbed, however, most convoys arrived at the destination safely.
Fighting is likely to continue for at least the short-term as neither side has shown a willingness to talk. It is still unknown who is in control over Sudan or a clear indication as to which side has an advantage. As the fighting continues, the humanitarian crisis throughout Sudan will continue to become more dire as necessities run low. The international community is expected to encourage a longer-term ceasefire and talks between the RSF and the army.
EUROPE
Massive May 1st Protests in Paris with Talks on the Horizon
In reaction to French President Macron's raising of the retirement age, France's unions and citizens held thirteen days of nationwide protests and strikes. This all came to a head on May 1, the country's Labor Day, as around 800,000 people protested across France. Most of the unrest culminated in Paris with an enormous march that went through the city center and escalated at the Place de la Nation. At the end of the march and at several locations along the route, there were police and protester clashes that resulted in the deployment of tear gas. By the end of the day, at least 100 police officers had been injured, one critically by a Molotov cocktail, and nearly 300 protesters had been arrested. Many of the city streets became unruly for travelers as cars, kiosks, bike racks, dumpsters, and other things were set on fire.
It is unclear what will happen from here but based on the reaction of the citizens and union leaders, it is unlikely that May 1 were the last day of protests. On May 3, the Constitutional Council rejected a second bid to hold a referendum on stopping the retirement age raise. Union leader Sophie Binet, the head of the General Confederation of Labor, told reporters that "the mobilization" will not stop until this reform is withdrawn. We see that the anger has never been so strong in the country."
Some of the visible effects of the union strikes (which coincided with the protests) are related to trash collectors, railway workers, and airport staff. Specifically on May 1, airports across France saw major disruptions, with 33% of flights being cancelled at Paris-Orly, Marseille-Provence, Lyon, Bordeaux, Nantes, and Toulouse airports. Also, 25% of flights were canceled at Paris Charles de Gaulle, Nice, and Beauvais airports.
There has been little unrest around tourist attractions such as the Louvre and Eiffel Tower. A concern for May 1 was that protesters would take the opportunity to target the tourist industry and protest at tourist sites. This did not occur, but this risk remains as protesters look for further ways to make an impact. Protests could occur at subtler tourist attractions as well, such as the Luxembourg Gardens or along the Seine between the 8th, 6th, and 2nd arrondissements.
For some historical context, on May 1 last year, Paris also saw protests, with a large march of 24,000 people in the city center criticizing the (then) newly re-elected President Macron. Specific criticisms a year ago were for Macron to call for salary increases and to drop his plan to raise the retirement age. Last year, the major march began in La Republique Square and ended at La Nation Square in east Paris. This year's protests were amplified compared to those of last year, which helps indicate this is a reoccurring protest that is likely to continue until won or at least bartered.
For over 25 years, On Call International has provided fully-customized travel risk management and global assistance services protecting millions of travelers, their families, and their organizations. Contact us today to learn more. You can also stay in touch with On Call's in-house risk management, travel health and security experts by signing up for our quarterly Travel Risk Management (TRM) newsletter.
The information provided to you within this report has been compiled from a multitude of available sources and is based on current news and analysis at the time of writing. The security team at On Call International, LLC has provided this analysis, supporting advice, and recommendations in good faith to assist you in mitigating risks that could arise. However, no implied or express warranty against risk, changes in circumstance, or other fluid and unforeseen events can be provided. By reading this report, you will agree that any reliance you place on this information is therefore strictly at your own risk and that you will not hold On Call International, LLC or the authors responsible for any inaccuracies, errors or oversights here-in. No part of this publication may be reproduced, stored in a retrieval system, or transmitted, in any form or by any means, electronic, mechanical, photocopying, or otherwise without the prior permission of On Call International, LLC.