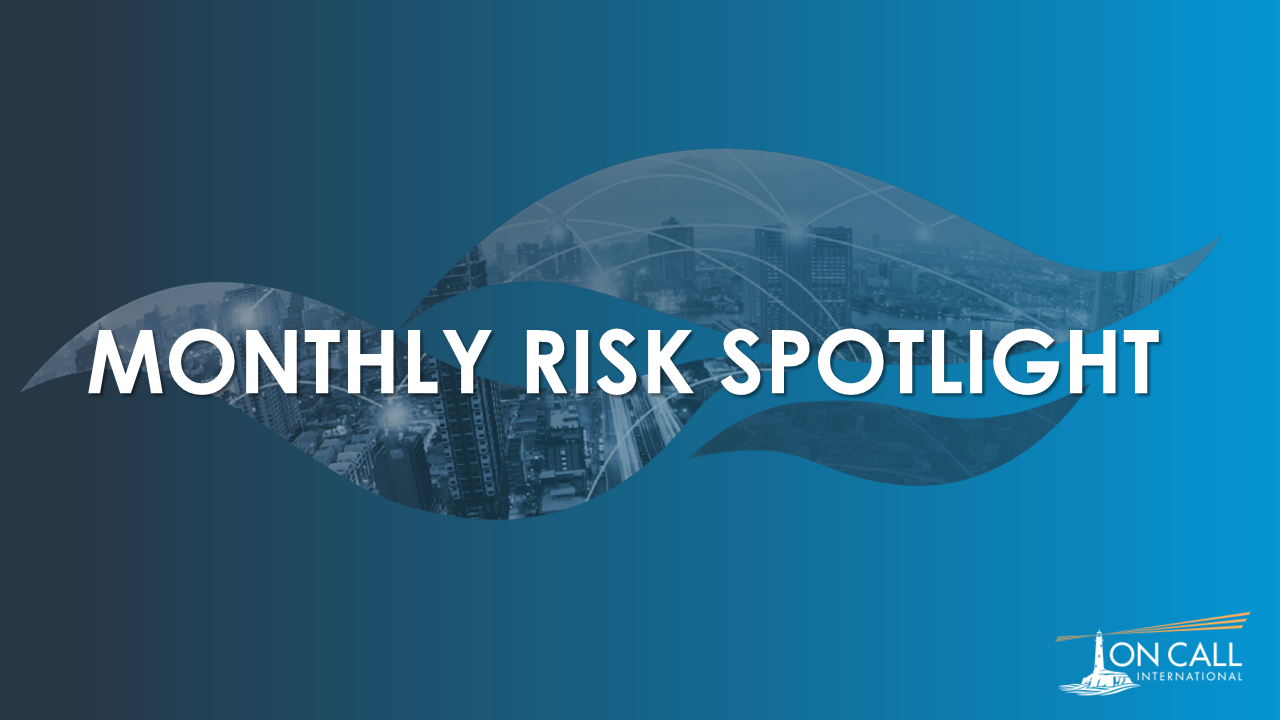 AMERICAS
Political Unrest Paralyzes Peru
On December 7, 2022, Peru's President Pedro Castillo was impeached and arrested for attempting to dissolve congress and rule by decree. The move was broadly condemned by political allies and enemies alike in Lima and labeled by many as a coup attempt. His former vice president Dina Boluarte now serves as President and is the sixth person to hold Peru's presidency, officially a six-year term, in six years. Given this incredible string of presidencies cut short, Castillo's impeachment was not particularly notable. However, the massive and determined protests that followed his removal from office certainly were.
Beginning the weekend of December 9 to 11, tens of thousands took to the streets for the former President who, with dark skin and a professional background as a schoolteacher, looked much more like the average Peruvian than the members of congress who removed him. The fact that he was under investigation for allegations of corruption, not unheard of among modern Peruvian Presidents, did little to dissuade people from demonstrating. Nor did violent episodes like the use of live rounds by police against crowds in Ayacucho on December 15. 22 demonstrators were ultimately killed in clashes between protesters and police in Peru during December 2022. Before a two week pause for the holidays took effect, Peru was paralyzed by protests which, while concentrated in the south, blocked highways and saw city plazas across the country filled with demonstrators condemning the government for impeaching Castillo. While the Lima airport remained open throughout December, international airports including Rodriguez Ballon (AQP), Alejandro Velasco Astete International Airport (CUZ), Inca Manco Capac International Airport (JUL) were all closed to commercial operations for multiple days after protesters successfully breached perimeters and disrupted operations. Disruption of international tourism was arguably the worst for Cusco and the popular nearby tourist destination Machu Picchu where highway roadblocks, the blocking of the Machu Picchu rail line, and shutting down of Cusco's airport (CUZ) saw hundreds of international travelers marooned in the city and surrounding towns.
While protests have not in early 2023 reached anywhere near the same intensity or geographic breadth as those of late December, unions representing members in Cusco, Puno, Arequipa, Tacna, Apurimac, Maquega, Madre de Dios, and Ayacucho have resumed strike actions. The degree to which protests of similar intensity and disruptiveness will take place in early 2023 depends on protester determination and state response. A nationwide state of emergency announced in late December deploying the military to protect critical transit infrastructure (airports) and suspending freedom of movement is still in place through mid-January at least. Security force deployments facilitated by this state of emergency is what allowed the government to secure and reopen airports in late December, but also resulted in the deaths of at least 22 protesters and allegations of human rights abuses like those seen in Ayacucho. Such events can be highly inflammatory and are widely accepted to have allowed recent protest movements in Chile and Colombia to surge from localized and limited protests to national and prolonged movements. It is no coincidence that many of the protesters back on the streets in early 2023 are chanting about the 22 protesters killed. Whether further clashes turn into further well-publicized abuses by security should be an important determinant of whether protests again broaden and become widely disruptive in Peru.
MIDDLE EAST AND NORTH AFRICA 
Flash Flooding in the Middle East
While countries in the Middle East typically experience hot and arid conditions, occasional heavy rainfall can bring most cities in the region to a standstill. Powerful floods at the end of 2022 ripped through cities like Petra, Mecca, Jeddah, Alexandria, and Baghdad. In Petra flash flooding triggered the evacuation of 1,700 tourists. Footage on social media showed what looked like rivers flowing through Petra's narrow passages and down the Nabatean temple. Landslides and falling rocks were reported along the road adjacent to the Dead Sea. The event resulted in three injuries in the nearby Maan governorate where the flooding tipped a minivan over on the side of the road. Similar flooding occurred in 2018, killing 12 people in Petra and 21 near the Zara Maeen hot springs.
Heavy rain brought flash floods to Jeddah as the year ended, causing streets to become impassable. Vehicles were left submerged, and authorities asked people to stay indoors. Schools were forced to postpone classes and flights to and from King Abdulaziz International Airport (JED) were delayed. Flooding in Baghdad caused the city to fully mobilize all its workers in order to work at maximum capacity to drain the floodwater in the streets. Public transportation in the city was disrupted as the main stations stopped working due to damage from the excessive rain.
The recent flooding in multiple cities proves the inadequacy of drainage infrastructure desperately needs to be addressed, among other issues. After a flash flood killed 22 tourists in Petra in 1963, authorities built a dam to keep water out of the area and in 2014 an alarm system was added to warn about dangerous water levels. Petra seems particularly vulnerable to flooding compared to other major cities in the region due to its topography. When infrequent but powerful rain falls onto dry and steep hillsides, occasional but high-volume flows are common. After December's flood, new aerial observation stations were scheduled to be installed at specific locations in the Petra area. In March, Saudi Arabia budgeted SR395 million ($106 million) to upgrade rainwater and groundwater drainage systems in Jeddah with an expected timeline of 36 months.
United Arab Emirate's National Centre of Meteorology (NCM) says climate change is responsible for the increased frequency of the heavy rains that cause flooding. Similarly, a US government's annual report says climate change is already increasing the vulnerabilities of critical infrastructure in the U.S. and other nations. While some people believe climate change is the main cause of powerful flash floods in the region, others blame additional factors such as uncontrolled development, agricultural growth, inadequate drainage infrastructure, and rising populations. These factors have significant impacts on flooding and should be addressed by local governments.
ASIA-PACIFIC
North Korea in the New Year
In 2022, North Korea had declared itself a nuclear weapon state and conducted more missile tests than in any other year. By the end of the year, North Korea had successfully tested its most powerful intercontinental ballistic missile (ICBMs) to date, which is capable of reaching anywhere on the U.S. mainland. Tensions in the Korean peninsula and between the US and North Korea are currently at their highest since 2017.
After a year of repeated missile tests, 2023 seems to be starting off a lot like 2022, with North Korea conducting a short-range missile test throughout New Year's Eve and January 1. North Korean leader Kim Jong Un has unveiled his military goal for the new year amid rising tensions. According to Kim, the nation is facing a 'newly created challenging situation' in the region, setting the direction for his military plan, which calls for 'strengthening self- defense capabilities.'
As a part of this strategy, Kim Jong Un vows to increase nuclear weapons production and ICBMs this year. Kim has also declared South Korea as the North's 'undoubted enemy'. Though North Korea has made aggressive remarks towards South Korea in the past, with the rising tensions today, many analysts believe that the current threats and provocation from the North should be a cause for concern due to several worrying events taking place at the end of 2022. The most worrying being North Korea sending five drones over the border on December 27, violating South Korean airspace for the first time in five years.
Kim's regime has also escalated provocation against the West by supplying new forms of weapons and ammunitions to its partners in the Russian military to offset Western sanctions. With United Nations Security Council members Russia and China in its corner, Pyongyang is set in its path to growing defiance and may unleash its provocations unrestrained.  In August, North Korea's government rejected a proposal from South Korea to engage in dialogue. Talks between Washington and Pyongyang have also been stalled since fall of 2019. Experts believe that dialogue with North Korea is unlikely, with Kim already dismissing any chance of hosting denuclearization discussions in the near future.
SUB-SAHARAN AFRICA
Nineteen Abducted in Northwest Nigerian Mosque
On December 3, 2022, 19 people were abducted at a mosque in northwest Nigeria. The perpetrators reportedly entered while people were doing Saturday evening prayers. Prior to abducting those at the mosque, they shot and wounded the Imam and one other person. The event occurred in Maigamji village in Katsina state. Local police officers followed the bandits and rescued six of the people abducted and 13 are still missing. Local gangs in Nigeria are also referred to as bandits. Nigeria has seen an uptick in kidnap-for-ransom cases as it is far more lucrative; however, the bandits still conduct killings and loot houses around the area. Hostages are generally released after the ransom is paid. In November, 100 women and children were kidnapped in northwest Nigeria and in the Kwabre community, they kidnapped 37 children mostly between the ages of 14 and 16 as well as women. The others were taken from various other villages in the area. The bandits then demanded money from the relatives. Northern Nigeria, along the border with Niger, has a heightened risk of kidnapping, gang violence, and terrorist activity.
The local gangs not only participate in kidnapping but also steal cattle and burn homes after looting for supplies. The bandits have caused thousands to be displaced from their homes as violence in the area continues. On December 6, 2022, 8 people were kidnapped in Kubwa which is an area of Abuja. The kidnappers reportedly entered multiple homes, shooting randomly which killed one and injured one, and then subsequently kidnapped eight others. Another instance of gang violence that took place in December resulted om the deaths of 15 people in a village in Kaduna state. Kidnapping in Nigeria is not new. On December 29, 2022, people in Nigeria gathered to remember the 275 missing schoolgirls who were abducted in 2014 by Boko Haram. 94 of the girls are still missing to this day while the others have been rescued or found. While northern Nigeria has an increased risk of kidnapping and terrorism activity, the risk of kidnapping is prevalent all across the country.
The President of Nigeria, Muhammadu Buhari, is under pressure to put an end to the violence in Nigeria before he leaves office. Nigeria is set to hold elections in February and President Buhari will not be running for re-election. While there has been an increase in kidnap-for-ransom and other gang related activities throughout Nigeria, there has always been a risk of kidnapping and violence. The violence throughout the country is likely to persist as armed gangs and terrorist organizations continue to expand across the country.
EUROPE
Unrest After World Cup Matches
Much of the world was captivated by the FIFA World Cup throughout December; Europe was no exception. With European and African countries in the tournament, the competition was heated with nationalism. Sports are a very dynamic cultural event, especially at the national level, where they can induce strong levels of patriotism. Patriotism can be a positive attribute, however, sometimes patriotism sparks high levels of unrest after victories or, potentially, worse, after defeats.
In December, there were severe spouts of unrest in Europe after World Cup games. On December 6th, celebrations erupted and quickly turned violent in Brussels after a Moroccan victory in the World Cup. Security forces were targeted with projectiles, and they quickly moved to arrest many people who were partaking in the overt celebrations. Inner-city travel in central Brussels was hindered as the streets became crowded with sporadic fireworks while several cars were lit on fire. Areas of Brussels that were targeted most due to the celebrations were the Boulevard du Midi and Brussels Station South.
The opposite reaction brought similar results to Paris, Lyon, and Montpellier, France, on December 15th, when the Moroccan team lost to the French team in the World Cup Semifinal. Moroccan fans and French fans clashed at the Champs Elysees in Paris, where French police used fire and tear gas to disperse the crowd. The riots in Lyon and Montpellier mostly consisted of excessive numbers of people in the smaller streets, both Moroccan and French fans. A video circulated on social media of a 14-year-old boy being killed in a riot in Montpellier after a car was surrounded due to opposing team disputes and the car attempting to get away. This resulted in the boy being pinned under the car for an extended amount of time. Unverified reports later said that the boy died in the hospital.
Spectators attending large sporting events should be aware of the risks associated with the aftermath of these events. Recognizing this risk and having an exit strategy regarding for leaving the venue can significantly mitigate the risk of injury or major disruption to travel. It's notable to mention that emotions are not the only thing that causes an increased risk at or after sporting events. Stampedes can occur inside or outside of stadiums due to overcrowding; this has been seen in the past causing mass casualties. Understanding the environment and the history of past events are important preemptive measures for mitigating risk.
For over 25 years, On Call International has provided fully-customized travel risk management and global assistance services protecting millions of travelers, their families, and their organizations. Contact us today to learn more. You can also stay in touch with On Call's in-house risk management, travel health and security experts by signing up for our quarterly Travel Risk Management (TRM) newsletter.
The information provided to you within this report has been compiled from a multitude of available sources and is based on current news and analysis at the time of writing. The security team at On Call International, LLC has provided this analysis, supporting advice, and recommendations in good faith to assist you in mitigating risks that could arise. However, no implied or express warranty against risk, changes in circumstance, or other fluid and unforeseen events can be provided. By reading this report, you will agree that any reliance you place on this information is therefore strictly at your own risk and that you will not hold On Call International, LLC or the authors responsible for any inaccuracies, errors or oversights here-in. No part of this publication may be reproduced, stored in a retrieval system, or transmitted, in any form or by any means, electronic, mechanical, photocopying, or otherwise without the prior permission of On Call International, LLC.